Many of those who became interested in the diamond top pattern that developed over the span of about 22 months (roughly the spring of 1999 to date) may have become distracted by the Average's recent resilience. After what appeared to be a downside breakout in May, the DJIA--as represented by the Diamonds Unit Trust, or diamonds--retraced the down move and then some, rallying 18% from a low of 91 to 108, March through April.


This, however, doesn't mean that the diamond's down days are done. For starters, while the diamonds suggest that the Dow has not yet established a clear intermediate term trend, the March-April rally mentioned above came on a clearly declining volume trend (see chart). Price advances on retreating volume are almost always suspect and, in a market with a decidely negative bias, such an advance is best treated cautiously, if at all.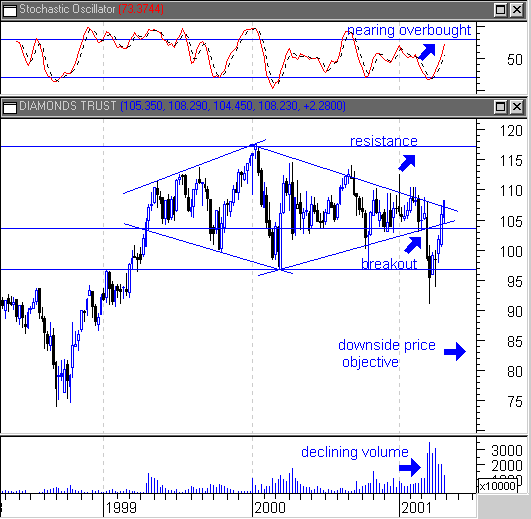 Declining volume on the rally, an overbought stochastic and a diamond top suggest lower prices for the DJIA.
Graphic provided by: MetaStock.
Other reasons for bearishness arise from the characteristic behavior of diamond tops. Resistance with diamond tops, according to Bulkowski and others, is found at the top of the pattern (approximately 117 here). This provides for a sizeable pullback should one occur, and suggests that diamond tops may take some time to unwind and reach their downside price objective.


The measurement rule for diamond tops involves subtracting the difference between the highest high and the lowest low in the formation (essentially, the formation height) from the value at the point where prices breakout of the diamond pattern. In this case, a formation height of 20.385 (117.221 minus 96.836) is subtracted from the value at the breakout point in mid-March, or 103.583. Thus, the downside price objective for the diamond top is 83.198.


How reasonable is such a down move? The most recent low is 91, reached earlier this year. The price objective is only an 8% decline from that low. For lower lows, we need to look back to the spring and late fall of 1998, where a great deal of support exists in the form of two, half-year long consolidation zones. The lowest low in these zones is the low of 85 reached in June of 1998, although the zones are separated by a trough in the early fall of 1998 that saw prices as low as 73. Nevertheless, the support in the low 90s that existed in most of 1998 is formidable. While there may be plenty of downside to take advantage of from the Dow's diamond top, reaching the specific mathematical price objective suggested by the diamond top pattern may be more trouble than it's worth.