PRINT THIS ARTICLE
DOW THEORY
---
Dow Theory Buy Signal
04/22/08 08:48:32 AM
---
by Mike Carr, CMT
---
Market action is bullish, according to this time-tested strategy.
Security:
DIA
Position:
Buy
Charles Dow developed his Dow theory based upon his observations of the stock market and the economy of the late 19th century. He believed that the movement of railroad and industrial stocks could predict future trends. Dow's work was refined by later editors of The Wall Street Journal, S.A. Nelson and William Hamilton. Hamilton's The Stock Market Barometer, published in 1922, presents the first comprehensive explanation of the theory.


Dow theory can be reduced to a set of assumptions. The first is that the averages discount everything (acts of God are quickly discounted) and markets move in trends. The primary trend is discerned from the direction of the Dow Jones Industrial Average (DJIA) and the Dow Jones Transportation Average (DJTA). An uptrend is defined by higher highs and higher lows; a downtrend consists of a series of lower lows and lower highs. A trend is assumed to be in effect until it gives definite signals that it has reversed, such as a failure swing (two lower peaks and two lower troughs in an uptrend). There is much more to the theory, but these are the basic assumptions.


Last week, the DJIA closed with a higher high (Figure 1). Since the Dow theory is useful for longer-term trading, we use weekly charts to identify the trend. This action confirmed the higher lows, which were indicating a potential trend reversal.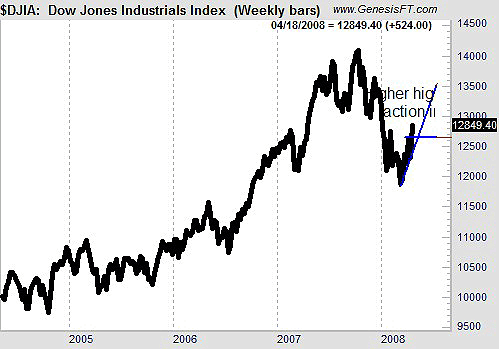 FIGURE 1: DJIA, WEEKLY. With the market action of April 18, the DJIA confirmed the trend of the DJTA and the Dow theory turned from a sell to a buy.
Graphic provided by: Trade Navigator.
The DJTA (Figure 2) was already in an uptrend prior to last week. When both averages are moving in the same direction, the Dow theory provides a clear signal. In this case, they are both in uptrends, indicating a buy signal is in effect.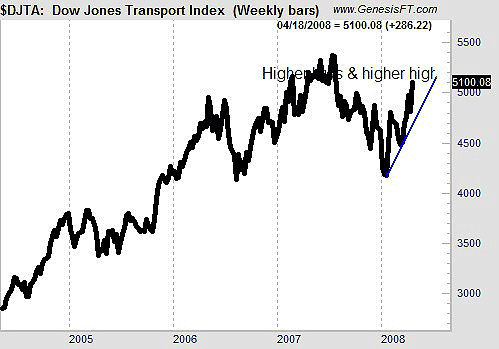 FIGURE 2: DJTA, WEEKLY. The DJTA has been in an uptrend for most of 2008 so far, marked by higher lows and higher highs.
Graphic provided by: Trade Navigator.
With Dow theory on a buy signal, now is a good time for traders to take a position in broad-based exchange traded funds (ETFs), such as the DIA. It is also important to consider closing any short positions since the trend is your friend and the trend is now up.


---
Mike Carr, CMT
Mike Carr, CMT, is a member of the Market Technicians Association, and editor of the MTA's newsletter, Technically Speaking. He is also the author of "Smarter Investing in Any Economy: The Definitive Guide to Relative Strength Investing," and "Conquering the Divide: How to Use Economic Indicators to Catch Stock Market Trends."
---
Click here for more information about our publications!
Comments
Date:
 04/22/08
Rank:
 2
Comment:
Date:
 04/22/08
Rank:
 5
Comment:
Date:
 04/27/08
Rank:
 5
Comment:
PRINT THIS ARTICLE