PRINT THIS ARTICLE
SHORT SQUEEZE
---
Supply And Demand Always Drive Price
03/27/08 09:08:56 AM
---
by Mike Carr, CMT
---
Being added to the Standard & Poor's 500 while a large short interest exists creates demand and can drive prices higher.

Security:
HCP
Position:
Buy
Occasionally, stocks are added to or removed from the major indexes. With billions of dollars invested in index funds, these announcements trigger buying and selling that is completely disconnected from the underlying fundamentals of the stock. Usually, there is little that technical analysis can add to these news announcements. But smart traders will still read the reports and spend a few moments analyzing the stock, looking for clues as to whether the price changes are an indication of a coming trend.



On March 24, 2008, S&P announced that Health Care Property Investors (HCP) would be added to the S&P 500 at the close on March 28. That means funds will need to own that stock when trading begins on March 31. Buying will be forced upon the index fund managers, and we should see the stock trade higher. The question is: Will the stock continue higher?



HCP is a real estate investment trust that invests in health care-related properties and provides mortgage financing on health care facilities. Although real estate is in a slump, this is a niche company in a growth sector. Acquiring health care facilities and leasing them to health care providers is a business model that should do well over the long term. HCP has interests in more than 500 facilities. The business supports a long-term bullishness in this stock.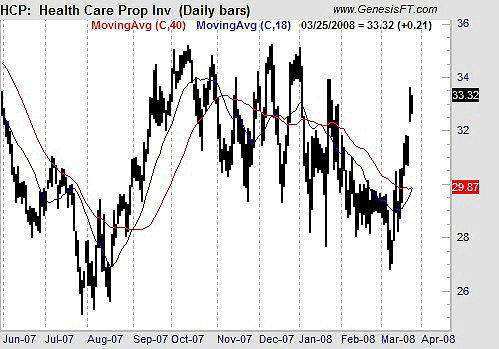 FIGURE 1: HCP, DAILY. The news-generated gap puts HCP near the top of a year-long trading range.
Graphic provided by: Trade Navigator.
In Figure 1 we can see that the announcement caused a gap, which drove the stock up to old resistance levels. Several moving average cross signals were triggered by this action. The 10-day rose above the 200-day moving average, indicating short-term bullishness. This chart shows the 18-day moving average about to cross above the 40-day average, an indication of intermediate-term strength. The chart shows a low-risk buying opportunity at this level. A stop at the close before the gap represents less than three points of risk, while the pattern shows a measured move of nine points.



One indicator to check for potential bullish support is the large short interest in HCP. Buyins.net reports that shorts will need more than eight days of normal trading volume to cover their positions in this stock, representing a lot of potential demand in a stock that must be bought by fund managers. The squeeze trigger represents the average price level where short positions were initiated. At this level, many shorts are likely to cover their trade and find a more profitable opportunity in the market. Buyins.net calculates that the average short is now losing money since the squeeze trigger is 30.62. The news also creates a short-term floor for the price and the gap offers a new support level. Shorts are undoubtedly feeling squeezed. HCP represents a strong buy based on this potential demand.




---
Mike Carr, CMT
Mike Carr, CMT, is a member of the Market Technicians Association, and editor of the MTA's newsletter, Technically Speaking. He is also the author of "Smarter Investing in Any Economy: The Definitive Guide to Relative Strength Investing," and "Conquering the Divide: How to Use Economic Indicators to Catch Stock Market Trends."
---
Click here for more information about our publications!
Comments
Date:
 03/30/08
Rank:
 1
Comment:
PRINT THIS ARTICLE