PRINT THIS ARTICLE
STRATEGIES
---
Global Crossing: Support And Potential Demand Add Up To Buy
03/11/08 11:55:15 AM
---
by Mike Carr, CMT
---
Trading near support and just below the squeeze trigger price, Global Crossing may be ready to move significantly higher.
Security:
GLBC
Position:
Buy
Global Crossing (GLBC) provides integrated voice and data network services to more than 175 of the world's largest companies and 700 telephone companies, and Internet service providers voice-over-IP telephone services grow along with the increased use of streaming video over the Internet, they are very likely to see increasing demand for their services. In the company's words, their most valuable asset is the network and "It is a network that will not be replicated in the near future, if ever."


Management confidence is important to GLBC, because it is a company without earnings. However, the trend is toward reduced losses. After losing more than $10 a share last year, it is expected to improve this year to a loss of about $6.50 a share. The consensus estimate for next year is for a loss of $3.36.


Without earnings, fundamental analysis is challenging for GLBC. This means the stock trades more in response to supply and demand than as a representation of the underlying business. At current levels, the stock is indicating that demand is very likely to be the predominant market force in coming weeks.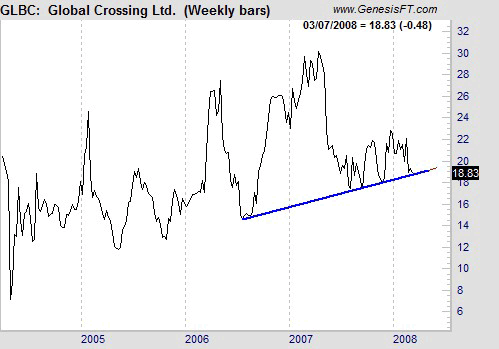 FIGURE 1: GLBC, WEEKLY. This chart shows that prices are testing a trendline that has been successfully tested six times.
Graphic provided by: Trade Navigator.
The weekly (Figure 1) and daily chart (Figure 2) are both bullish. On a weekly basis, we see a stock being supported by a long-term trendline. The daily chart is setting a stochastic buy signal, which has proven capable of highlighting short-term opportunities in the past.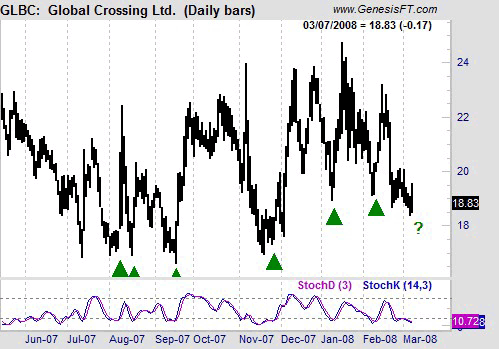 FIGURE 2: GLBC, DAILY. The stochastic indicator has demonstrated a great deal of reliability after becoming oversold as it is now.
Graphic provided by: Trade Navigator.
Buyins.net reports that shorts will need more than four weeks to cover their sizable positions in this stock. With more than 12% of the float shorted, there is significant potential demand. The squeeze trigger represents the average price level where short positions were initiated. At this level, many shorts are likely to cover their trade and find a more profitable opportunity in the market. They calculate that the average short is now losing money since the squeeze trigger is 18.94. With a quick bounce likely and downside limited to less than 5% by the trendline, GLBC represents a strong buy.


---
Mike Carr, CMT
Mike Carr, CMT, is a member of the Market Technicians Association, and editor of the MTA's newsletter, Technically Speaking. He is also the author of "Smarter Investing in Any Economy: The Definitive Guide to Relative Strength Investing," and "Conquering the Divide: How to Use Economic Indicators to Catch Stock Market Trends."
---
Click here for more information about our publications!
PRINT THIS ARTICLE