PRINT THIS ARTICLE
SEASONAL TRADING
---
A Sure Thing In Forex?
02/29/08 09:13:26 AM
---
by Mike Carr, CMT
---
Seasonal trading strategies have long been used to identify trades in stocks and commodities. They work in foreign exchange markets also.
Security:
EUR-CAD
Position:
Sell
Seasonal trades seek to profit from economic changes that occur with some predictability at given times of the year. Even when we don't understand the causes of the patterns, seasonality is a useful analytical tool, one that every technician should consider employing. It is best used with technical analysis instead of as a standalone strategy. Trades based on seasonality alone tend to show a high degree of profitability and reliability in backtesting. But markets change over time and these tendencies can disappear unexpectedly. Combining seasonal ideas with a strong technical basis for a trade can lower risk for traders.


In March, the euro/Canadian dollar pair shows a very strong seasonal bias. About 80% of the time, shorting the euro against the Canadian dollar is profitable for the month. The average trade results in profits of more than $1,200, but drawdowns are high and in foreign exchange trading, drawdowns are a primary consideration. The seasonal tendency tells us we should watch this pair throughout the month, even if we don't normally trade it.


Optimizing the seasonal trade, we find that shorting the euro on the 10th trading day of the month and holding for three to four weeks leads to 100% winners and very low drawdowns. This is a time that forex traders need to be very alert to possible setups. The best short-term trade in the month occurs on the 14th trading day and holds the position only four days. This trade has shown average profits of about $250 per day with low drawdowns over the past nine years.

Looking for a technical setup, the daily chart shown in Figure 1 is bearish on balance. Price is right at its 20-day moving average, an indicator that has been useful for timing trades. The moving average convergence/divergence (MACD) is confirming the failure to reach a new high in price and is very likely to turn negative.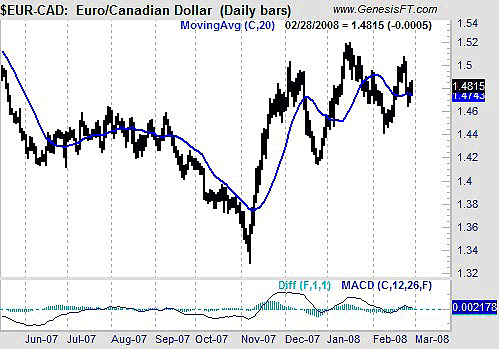 FIGURE 1: EUR-CAD, DAILY. A break of the 20-day moving average is likely to be followed by a significant move in EUR-CAD.
Graphic provided by: Trade Navigator.
Forex traders can easily monitor this currency pair and now know that shorts are likely to be profitable over the next month. Stock traders can use exchange traded funds (ETFs). Buying CurrencyShares Canadian Dollar Trust (FXC) and shorting CurrencyShares Euro Trust (FXE) will offer the same result, but dramatically lower profits since there will be no leverage.


---
Mike Carr, CMT
Mike Carr, CMT, is a member of the Market Technicians Association, and editor of the MTA's newsletter, Technically Speaking. He is also the author of "Smarter Investing in Any Economy: The Definitive Guide to Relative Strength Investing," and "Conquering the Divide: How to Use Economic Indicators to Catch Stock Market Trends."
---
Click here for more information about our publications!
Comments
Date:
 03/03/08
Rank:
 3
Comment:
PRINT THIS ARTICLE