PRINT THIS ARTICLE
STRATEGIES
---
Profiting In Commercial Real Estate
02/28/08 08:47:58 AM
---
by Mike Carr, CMT
---
If the time to buy is really when there is blood in the streets, it's time to start looking through the real estate sector.
Security:
CSGP
Position:
Buy
CoStar Group (CSGP) is a company that looks like it can profit from a real estate market that can only be described as difficult. The company provides information services to commercial real estate professionals in the US and the United Kingdom. Information on listings and sales becomes especially valuable when markets are tight, as buyers want to ensure they don't overpay.


The stock has suffered with the real estate market (Figure 1). Recent price action is indicative of a double-bottom price formation, and aggressive investors should consider taking positions at this level. The moving average convergence/divergence (MACD) histogram is supportive of higher prices, and risk is limited to the recent lows that are less than 10% away from current prices.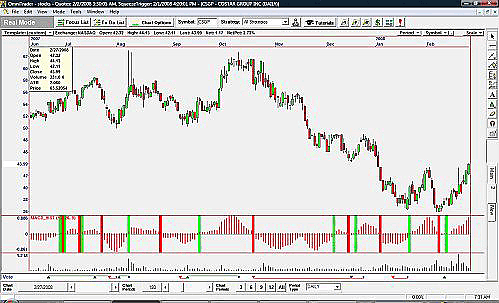 FIGURE 1: GSGP, DAILY. Momentum confirms the recent price action on this chart of CSGP, shown here with the MACD histogram.
Graphic provided by: OmniTrader 2008.
The weekly chart (Figure 2) indicates that prices can move much higher before encountering any significant resistance. With 15 points of potential upside, the trade offers a nearly 5:1 reward-to-risk ratio. Momentum is also very close to breaking out to the upside on the weekly chart. This is another indication that aggressive buyers should acquire position at this price.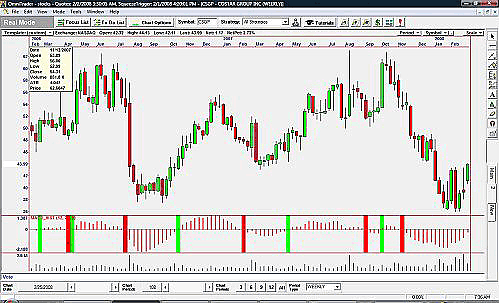 FIGURE 2: CSGP, WEEKLY. Momentum is about to give a buy signal on the weekly chart, meaning aggressive traders can initiate positions in anticipation of that signal.
Graphic provided by: OmniTrader 2008.
Finally, the basic principles of supply and demand point to higher prices. According to Buyins.net, there is a large short interest in CSGP, which will create demand as prices move higher. Buyins.net tracks short interest in stocks and calculates the average prices on those shorts, providing a squeeze trigger price. At the squeeze trigger, shorts can be squeezed and stock prices can shoot higher as shorts scramble to cover their losing positions. The current squeeze trigger in CSGP is $43.18, right at the current price level. Shorts have built up a large position in this stock, nearly three weeks' worth of average volume, and on average, they are losing money right now.


Upward price moves in CSGP will deepen the losses of the shorts, adding to the bullish arguments for this stock.


---
Mike Carr, CMT
Mike Carr, CMT, is a member of the Market Technicians Association, and editor of the MTA's newsletter, Technically Speaking. He is also the author of "Smarter Investing in Any Economy: The Definitive Guide to Relative Strength Investing," and "Conquering the Divide: How to Use Economic Indicators to Catch Stock Market Trends."
---
Click here for more information about our publications!
Comments
Date:
 03/03/08
Rank:
 2
Comment:
PRINT THIS ARTICLE