Learning Tree International (LTRE) is in a growth industry. The company provides classroom training for the professional development of managers and information technology professionals around the world. Training covers a broad range of technical and management disciplines, including operating systems, computer networks, computer and network security, web development, project management, business skills, and leadership and professional development. A total of 162 course titles are offered, with courses varying from two to five days in length. If a recession hits, nervous managers will seek to enhance their skills with training. If a recession doesn't hit, corporations will send their managers to obtain new skills. Either way, LTRE profits.


Analysts expect annualized profit growth to average 20% over the next five years. With a P/E ratio near 11, the stock has solid fundamental support. The daily chart in Figure 1 shows a stock that's severely oversold. The steady push lower is likely overdone at this point, and the chart shows an exhaustion gap on heavy volume with the stochastic at a crossover point. Ugly as it appears, the chart is actually bullish.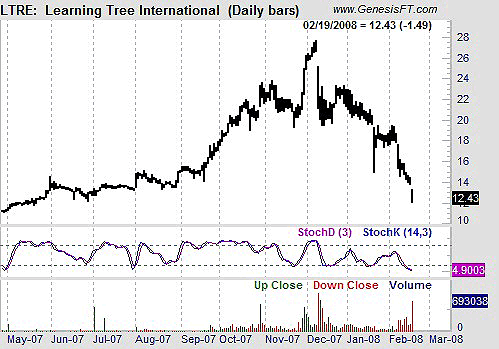 FIGURE 1: LTRE, DAILY. Stochastic buy signals work best on oversold stocks, such as LTRE.
Graphic provided by: Trade Navigator.
The monthly chart (Figure 2) shows that the stock is trying to break out of a multiyear base. It's recently returned to the rectangle pattern and at this point, LTRE is at a critical price level. A break below 12 would indicate that long positions in this stock face an extended period of dead money, with little downside risk. More likely is a move upward, and the stock can nearly double in price before encountering long-term resistance.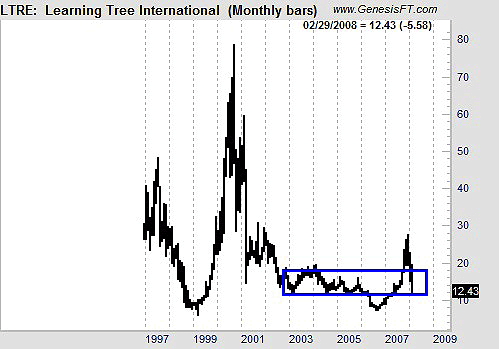 FIGURE 2: LTRE, MONTHLY. Monthly charts are useful for highlighting big bases, such as this one, which has lasted for more than five years.
Graphic provided by: Trade Navigator.
Finally, the short interest in the stock provides bullish support. Buyins.net tracks short interest in stocks and calculates the average prices on those shorts, providing a squeeze trigger price. At the squeeze trigger, shorts can be squeezed and stock prices can shoot higher as shorts scramble to cover their losing positions. The current squeeze trigger in LTRE is $12.56, just below the current price. As shorts cover their losing positions, LTRE is likely to move higher on the increased demand, which amounts to almost a week's normal trading volume.


At current prices, LTRE is a solid buy with little risk.