PRINT THIS ARTICLE
STRATEGIES
---
Jo-Ann Stores: Another Recession-Safe Retailer
02/12/08 09:01:44 AM
---
by Mike Carr, CMT
---
Some companies can fare well even in a slowing economy. JoAnn Stores is an example.
Security:
JAS
Position:
Buy
Jo-Ann Stores, Inc. (JAS), sells supplies for sewing, crafting, and home decorating projects, including fabrics, home accents, seasonal decorations, and home decor merchandise. The company sells a lot of these products, almost $1.9 billion last year. With 838 stores in 47 states, they have more geographic diversity than many specialty retailers. Earnings are solid, with projections of $0.61 per share this year forecast to grow by 50% next year.


As stocks suffered last week, JAS showed signs of bottoming. The weekly chart (Figure 1) shows a large up move, and the stock is now up four weeks in a row. It bounced off the price target of $9.99 a share obtained from the head & shoulders pattern that formed in 2007. It now trades at a level of support that dates back to 2005.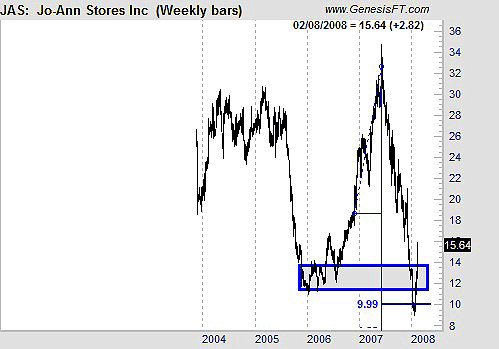 FIGURE 1: JAS, WEEKLY. This chart shows the stock hit its downside target and is above a key support level.
Graphic provided by: Trade Navigator.
The daily chart (Figure 2) shows that the breakout has been confirmed by strong momentum. JAS moved up steadily after forming a bottom, and although the oscillators are overbought, price is not overextended.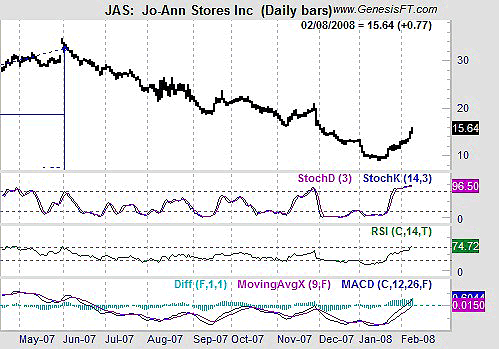 FIGURE 2: JAS, DAILY. This chart confirms the bullishness of the weekly chart.
Graphic provided by: Trade Navigator.
Buyins.net reports that shorts will need about six days to cover their sizable positions in this stock, and they calculate that the squeeze trigger is 18.03. The squeeze trigger represents the average price level where short positions were initiated. At this level, many shorts are likely to cover their trade and find a more profitable opportunity in the market, leading to potential gains for buyers of JAS.


JAS is a stock poised to move higher. Initial resistance in the low-20s may slow the upward march, but fundamentals support a price projection of 30. A stop near 12 limits the risk.


---
Mike Carr, CMT
Mike Carr, CMT, is a member of the Market Technicians Association, and editor of the MTA's newsletter, Technically Speaking. He is also the author of "Smarter Investing in Any Economy: The Definitive Guide to Relative Strength Investing," and "Conquering the Divide: How to Use Economic Indicators to Catch Stock Market Trends."
---
Click here for more information about our publications!
Comments
Date:
 02/12/08
Rank:
 3
Comment:
PRINT THIS ARTICLE