PRINT THIS ARTICLE
TRADING SYSTEMS
---
Bon-Ton: A Beaten-Down Retailer That May Have Bottomed
02/12/08 09:44:03 AM
---
by Mike Carr, CMT
---
Midpriced retailers are likely to do well in the coming months, as their customers get rebate checks under Congress' recently passed stimulus package.
Security:
BONT
Position:
Buy
Department store operator Bon-Ton Stores Inc (BONT) recently reported a 1.3% decline in January 2008 same-store sales and its shares rose about 16%. The decline was much lower than Wall Street analysts had expected. The stock's price rise in a down market indicated high relative strength, a good buy indicator for stocks with good fundamentals.


Bon-Ton Stores may actually be an economic bellwether. It operates department stores in midsized markets throughout the heartland of the United States. The company's stores offer fashion apparel and accessories for women, men, and children, as well as footwear, cosmetics, home furnishings, intimate apparel, and junior apparel. Its 279 stores are located in the Northeast, Midwest, and upper Great Plains. Sales totaled more than $3.5 billion last year.


The stock has been beaten down in the past year, falling about 90% from its 52-week high (Figure 1). With rebate checks on the way to its customers, BONT is likely to have hit bottom. Price has broken a trendline drawn from that 52-week high, and momentum is confirming the trendline break. The moving average convergence/divergence (MACD) and other oscillators are also bullish. See Figure 1.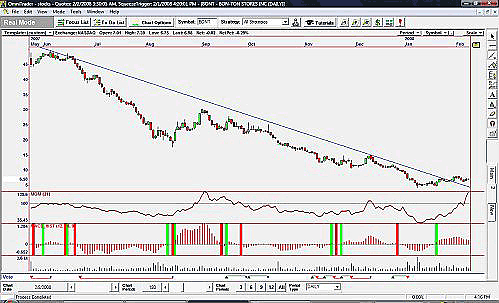 FIGURE 1: BON-TON. A good bet for the stock?
Graphic provided by: OmniTrader 2008.
From a value perspective, this is a cheap stock. The price-to-earnings ratio is less than 5 and price-to-sales ratio less than 0.1. The tangible book value is more than twice the current price. These fundamentals limit risk, and the stock is either headed for bankruptcy or searching for a bottom. Earnings estimates indicate the business is likely to survive, adding a margin of fundamental safety to the trade.



With the first resistance at 15 and an easily identified stop at 5, this trade offers a 4-to-1 reward-to-risk ratio. BONT represents a good bet on the American consumer and a recovering economy.


---
Mike Carr, CMT
Mike Carr, CMT, is a member of the Market Technicians Association, and editor of the MTA's newsletter, Technically Speaking. He is also the author of "Smarter Investing in Any Economy: The Definitive Guide to Relative Strength Investing," and "Conquering the Divide: How to Use Economic Indicators to Catch Stock Market Trends."
---
Click here for more information about our publications!
Comments
Date:
 02/12/08
Rank:
 2
Comment:
PRINT THIS ARTICLE