PRINT THIS ARTICLE
SUPPORT & RESISTANCE
---
Teleflex — A Good Stock For An Uncertain Market
02/05/08 08:25:51 AM
---
by Mike Carr, CMT
---
If Congress and the Federal Reserve can stimulate the economy, then it's time to buy industrials in anticipation of the recovery.
Security:
TFX
Position:
Buy
Teleflex Inc. (TFX) supplies parts to manufacturers such as Boeing. It's a mundane business, but the type of company that will bottom ahead of the overall market. The stock market looks into the future, and today's prices represent a collective opinion on which companies will be among the winners six months from now. The economy slowed in the fourth quarter and if the economic stimulus packages work as advertised, by summer, the economy will be on the upswing. Heavy industry has traditionally done well as the economy picks up after a recession, so now is the time for these stocks to move higher.


TFX is a big company (more than $2 billion in annual sales) with steady earnings. It has a low P/E ratio, in line with its industry. The stock recently broke out through a downtrend line and the stochastics indicator confirmed the breakout. The stochastics also put in a bullish divergence at the recent lows, another bullish aspect of the chart (Figure 1).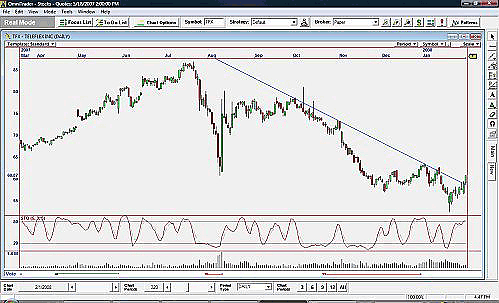 FIGURE 1: TFX. TFX broke out to the upside after an extended decline, and stochastics confirms the bullish chart.
Graphic provided by: OmniTrader 2007.
An additional factor in TFX's favor is the short interest in the stock. Buyins.net tracks short interest in stocks and calculates the average prices on those shorts, providing a squeeze trigger price. At the squeeze trigger, shorts can be squeezed and stock prices can shoot higher as shorts scramble to cover their losing positions. The current squeeze trigger in TFX is $59.86, just below the current price. As shorts cover their losing positions, TFX is likely to move higher on the increased demand.



TFX represents a good bet on the recovering economy. It is a low-risk trade, with resistance at 75 and support at 55. This represents a potential profit of 15 points against a potential risk of 5 points.



---
Mike Carr, CMT
Mike Carr, CMT, is a member of the Market Technicians Association, and editor of the MTA's newsletter, Technically Speaking. He is also the author of "Smarter Investing in Any Economy: The Definitive Guide to Relative Strength Investing," and "Conquering the Divide: How to Use Economic Indicators to Catch Stock Market Trends."
---
Click here for more information about our publications!
Comments
Date:
 02/06/08
Rank:
 1
Comment:
PRINT THIS ARTICLE