PRINT THIS ARTICLE
OSCILLATORS
---
The Crash Of VMWare
02/05/08 08:14:02 AM
---
by Koos van der Merwe
---
On October 15, 2007, when VMWare's price was $102, I wrote an article asking, "Making A Bet, Or Is It A Sure Thing?"
Security:
VMW
Position:
Buy
At that point, the price of VMWare (VMW) reached a high of $123. The price rose to a high of 125.25 by November 1 before falling back to $71.44 by November 26, a nasty fall, but nothing compared to what was yet to come. On January 19, when the stock price closed at $80.45, The Economist magazine came out with an article on virtualization, titled "The Rise of the Hypervisor." In it, it asked if this was the most disruptive technology in business computing since the Internet was invented.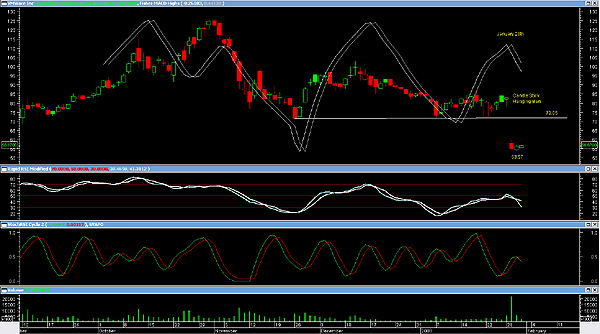 FIGURE 1: VMWARE, DAILY. Be prepared for a long hold.
Graphic provided by: MetaStock.
The article went on to say that Microsoft may have goofed in allowing EMC to acquire VMW. VMWare, according to the magazine, had become one of the fastest-growing software firms in existence, with money coming in from a suite of products , building an ecosystem around its emerging platform.

Will there be competition? Of course, but as long as VMWare stays ahead of the pack in product development, and so far it has, the company is worth investing in.

So what went wrong? Why did the share price drop to a low of $54.51 on January 29? After the market closed, VMWare issued its quarterly results, and the stock price was clobbered because recent growth fell short of expectations. With economic growth slowing and with software giants like Microsoft Corp. boosting their virtualization products, VMWare watchers foresaw tough times ahead.

This quarter and probably next quarter are okay, wrote analysts, but six months down the road, things would get worse, they predicted. Much worse.

On that statement, the share price dropped $28.13 in afterhours trading, opening at $54.87 the following morning.

What now?



Figure 1 is a daily chart of VMWare and shows the following:

a. A FishMACD of the highs, which gave a sell signal on January 28.
b. A candlestick appeared on January 28, suggesting a sell signal for January 29.
c. The rapid RSI and the stochastic RSI indicator reacted only on January 30, after the price had fallen on a gap.

As all technicians know, a price rises to fill the gap, and if VMWare is true to form, the price should rise, with a strong resistance at $72.05. Will it ever reach the glorious highs of $120 again? Possibly, but far in the future, when the recession in the US is no more, and then again, as long as the company remains ahead of the competitors. In fact, a recession could even be to VMWare's benefit, because virtualization helps slash a company's computing bills.

Finally, what is a concern is that "missing an analyst's projection," one of the reasons why companies cooked the books in 2000, is once again at the fore.

Look to VMWare for a buy at these levels, but be prepared for a long hold.




---
Koos van der Merwe
Has been a technical analyst since 1969, and has worked as a futures and options trader with First Financial Futures in Johannesburg, South Africa.
| | |
| --- | --- |
| Address: | 3256 West 24th Ave |
| | Vancouver, BC |
| Phone # for sales: | 6042634214 |
| E-mail address: | petroosp@gmail.com |
---
Click here for more information about our publications!
Comments
Date:
 02/06/08
Rank:
 3
Comment:
PRINT THIS ARTICLE