PRINT THIS ARTICLE
STOCHASTIC FAST %K
---
Ross Stores -- A Near Recession-Proof Stock
01/24/08 03:16:41 PM
---
by Mike Carr, CMT
---
Whether the market goes up or down, Ross Stores offers potential gains with limited risk.
Security:
ROST
Position:
Buy
Ross Stores (ROST) is likely to fare well in a slowing economy. The company operates more than 700 off-price retail apparel and home accessories stores, targeting value-conscious consumers. It offers brand-name and designer merchandise below the regular prices of most department and specialty stores. It's a formula that works. And during the short-lived recession of 2001, the stock appreciated about 75% over six months.



On a long-term chart, the stochastics is near a level that represented significant buying opportunities (Figure 1). In addition, the stock is trading at support levels that have held since 2004. The stock opened 2008 on a small downward gap and proceeded to fall nearly 20% before rallying strongly. Closing below that gap level, now that it's been filled, would be very bearish. That offers traders a stop at 25.50.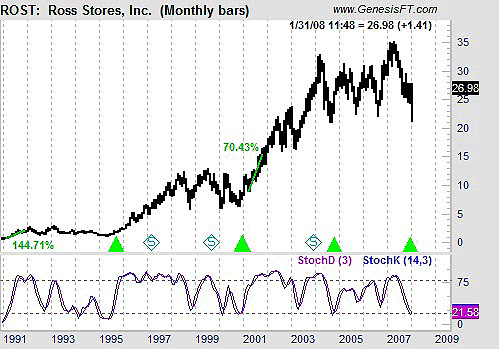 FIGURE 1: ROST, MONTHLY. ROST shows buy signals when the fast stochastic has turned up from below 30.
Graphic provided by: Genesis Trade Navigator.
The daily chart provides a price objective on the upside (Figure 2). Measured moves in patterns are symmetrical, and the downside move projects an upside target equal to the length of the move. In Figure 2, we see that this technique offers a price target of 31.19. This represents a 2:1 reward/risk ratio. The stock also has a beta of 0.53, meaning downside risk should be half of the market risk.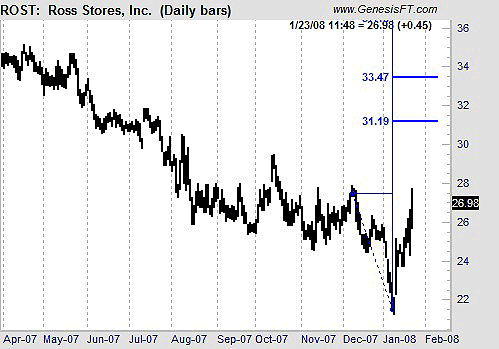 FIGURE 2: ROST, DAILY. The daily chart supports the case for a 20% gain in ROST.
Graphic provided by: Genesis Trade Navigator.
According to Buyins.net, there is a large short interest in ROST. Buyins.net tracks short interest in stocks and calculates the average prices on those shorts, providing a squeeze trigger price. At the squeeze trigger, shorts can be squeezed and stock prices can shoot higher as shorts scramble to cover their losing positions. The current squeeze trigger in ROST is $27.57, right at the current price level. Given the large number of short candidates in this market, traders may choose to take their losses in ROST and look for better shorts.


---
Mike Carr, CMT
Mike Carr, CMT, is a member of the Market Technicians Association, and editor of the MTA's newsletter, Technically Speaking. He is also the author of "Smarter Investing in Any Economy: The Definitive Guide to Relative Strength Investing," and "Conquering the Divide: How to Use Economic Indicators to Catch Stock Market Trends."
---
Click here for more information about our publications!
Comments
Date:
 01/29/08
Rank:
 3
Comment:
PRINT THIS ARTICLE