PRINT THIS ARTICLE
FIBONACCI
---
Dow's Dangerous Doji
01/08/08 08:47:40 AM
---
by Gary Grosschadl
---
The Dow Jones Industrial Average is not reflecting a happy new year. Here's why.
Security:
$INDU
Position:
Sell
As the main indexes are off to a shaky start in the new year, let's take a look at a long-term chart for some direction. In Figure 1, this long-term monthly chart shows a potential top in the form of a long-legged doji. Any doji (normally a small cross indicating the same open and close) at a possible top or bottom often points to a strong reversal signal. This form of market hesitation usually points to a shift in momentum, in this case a shift to bearishness. This harbinger to a possible serious down leg was verified by a close below the doji in the next two months. Note the current candlestick is an interim one as the month just started, but it is a bearish start so far.


To ponder on where a down leg might go, we should plot on Fibonacci retracement levels. The most common levels are retracements to 38.2%, 50%, and 61.8%. If minor support at 12,500 does not hold, these Fibonacci levels likely come into play. Note how the 38.2% level coincides with the 50-period exponential moving average (EMA) (currently 11,648) giving this level more credence. Should this level be breached, observe how the 50% level coincides with the long-legged tweezer-like bottom of the 2006 brief retracement. Note how even a large retracement to 61.8% still would have a 200-day EMA support, meaning the ultra long-term view holds that the bull is still intact. Most traders, however, would prefer not to suffer such a potentially large correction without taking some defensive action.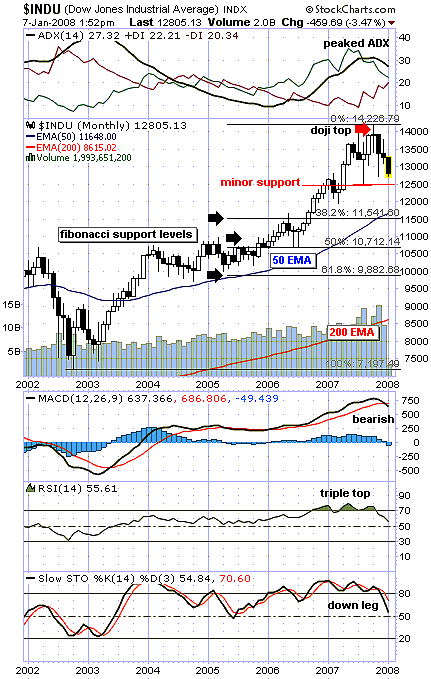 FIGURE 1: $INDU, MONTHLY. The Dow Jones Industrial Average shows possible retracement levels should the bears prevail.
Graphic provided by: StockCharts.com.
Several indicators are displayed. At the top of the chart, the ADX (average directional movement index) has peaked and is coming down. This portends a shift toward bearish power. This would be confirmed with a crossover of the DI's (directional indicators), which looks soon to occur. The moving average convergence/divergence (MACD) has just bearishly crossed and this would be a major signal if it holds with a January monthly close below 13,000. The relative strength index (RSI) shows a topping pattern of its own in the form of a triple top. Meanwhile, the stochastic oscillator shows a down leg under way now that the 80 level is broken to the downside.


In summary, a doji top means a significant reversal could be shaping up. If minor support at 12,500 does not hold, expect a move to at least near 11,500. Failure there brings the bigger Fibonacci levels into play.



---
Gary Grosschadl
Independent Canadian equities trader and technical analyst based in Peterborough
Ontario, Canada.
---
Click here for more information about our publications!
Comments
Date:
 01/09/08
Rank:
 3
Comment:
Date:
 01/10/08
Rank:
 5
Comment:
Date:
 01/15/08
Rank:
 5
Comment:
Date:
 01/15/08
Rank:
 5
Comment:
PRINT THIS ARTICLE