After Christmas, shoppers head to the stores looking for bargains. On Wall Street, the days after Christmas can also be a good time for bargain hunting. Investors sell for a variety of reasons, not always because a company is doing poorly. And selling has a way of feeding on itself, with lower prices bringing out more sellers in what seems like a steady march toward zero in the stock price. Near the end of the year, investors review their portfolios with an eye toward selling losers to offset capital gains earned in other positions. While this is a good reason to sell, it has nothing to do with the company and often creates a chance for other investors to profit from bargain-hunting at this time of year.


To identify potential buying candidates, we looked for stocks near their 52-week lows after declining sharply in the past month, trading below $5 a share and having positive earnings over the past 12 months. While this identifies stocks with fundamental potential, we risk buying dead money stocks that will languish for months. To minimize that risk, we add a filter to find stocks where the stochastics indicator is giving a buy signal from an oversold reading. Combining fundamentals with technicals should identify strong stocks that are ready to move. This screening process identified two interesting buy candidates.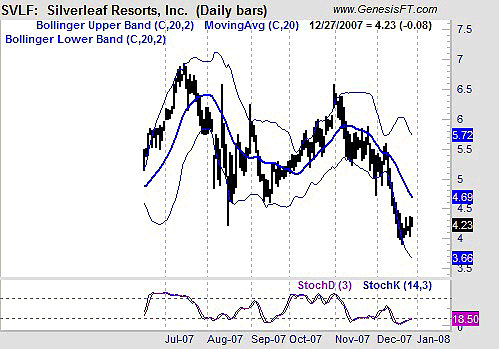 FIGURE 1: SILVERLEAF RESORTS, DAILY. SVLF started selling off in November 2007, prime time for realizing tax losses. The stock is deeply oversold and likely to rebound soon.
Graphic provided by: Trade Navigator.
Silverleaf Resorts (SVLF) sells and operates 13 time share resorts in seven states. The company also offers financing to buyers at its resorts. Combining real estate with consumer financing makes this a high-risk company that earned $0.68 a share last year and is estimated to earn $0.82 next year. And the risk is reflected in the price. SVLF trades at less than six times projected earnings. Figure 1 shows that it's been beaten up but might be ready to turn higher. SVLF has been trading along its lower Bollinger Band for several weeks, and stochastics has just signaled a buy.


American Shared Hospital Services (AMS) is a specialized medical services company. AMS provides a noninvasive treatment for malignant and benign brain tumors and other medical procedures. It earned $0.22 per share last year. In addition to the stochastics indicator, the average directional movement index (ADX) on Figure 2 has stopped climbing, usually a sign of an impending trend reversal.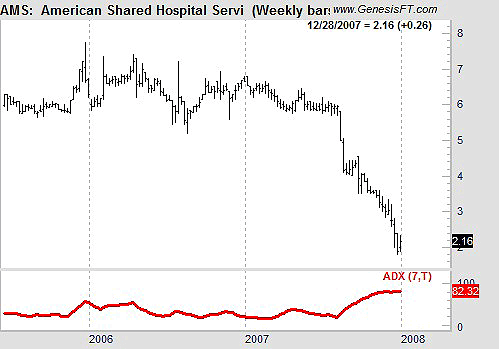 FIGURE 2: AMERICAN SHARED HOSPITAL SERVICES, WEEKLY. American Shared Hospital Services has been selling off steadily for more than 20 weeks. The trend appears to be ending and a bounce off this bottom is likely to occur quickly.
Graphic provided by: Trade Navigator.
Near the end of the year, the media often publishes articles about the best stocks to own in the coming year. By ignoring fundamentals, these articles usually find a few winners but most stocks on these lists go nowhere. By including technical indicators, we should be able to profit from this idea. SVLF and AMS are good examples of charts to begin studying for gains in the year ahead.