Fuel cells are less destructive to the environment than traditional batteries, making them a favorite of environmentalists. Medis Technologies (MDTL) has adapted this technology to power portable devices like cell phones, and it even manufactures them without the use of adhesives. Clean manufacturing processes makes this product even more appealing as an alternative to traditional battery packs. Green sells, and story stocks tend to climb, especially when they involve technologies that are easy to understand.


Fundamentally, the company is in good shape. Despite a lack of earnings, the company has plenty of cash on hand. MDTL was recently awarded a $500,000 US Department of Defense contract, a solid endorsement of the product's viability. Revenue is expected to exceed $67 million in 2008, up from less than $3 million in 2006. Earnings are expected to follow, and analysts are projecting earnings growth of 25% per year for the next five years.



The daily chart (Figure 1) shows that a triangle pattern has formed over the last six months, with a measured move to near 19 expected after the breakout is completed. Momentum indicators are far below oversold levels, and the stock has also completed a loose cup-and-saucer pattern over the past two months.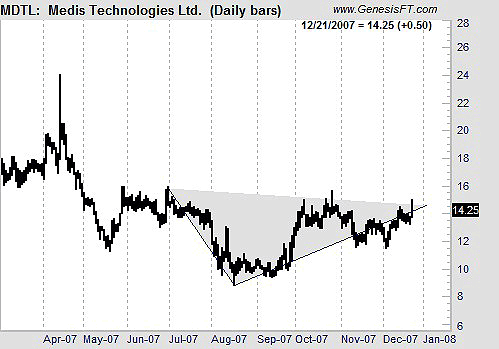 FIGURE 1: MDTL, DAILY. This chart shows the price nearing a breakout from a triangle pattern with a potential five-point price gain measured from this pattern.
Graphic provided by: Trade Navigator.
The weekly chart (Figure 2) is equally bullish. MDTL is testing a downtrend line from its 2006 high that has been tested twice before. This limits risk since if it fails to decisively break this line in the next few weeks, the stock is likely to move lower. Conservative traders can await the breakout before initiating a long position, placing a stop order to enter the trade just above the trendline.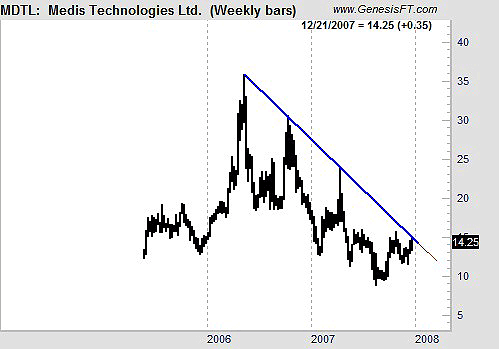 FIGURE 2: MDTL, WEEKLY. This chart shows that prices are challenging a nearly two-year downtrend.
Graphic provided by: Trade Navigator.
An additional factor in MDTL's favor is the large short interest in the stock. Almost half of the available shares of this company have been shorted, an amount that would take about three weeks to cover at the average daily volume. Buyins.net tracks short interest in stocks and calculates the average prices on those shorts, providing a squeeze trigger price. At the squeeze trigger, shorts can be squeezed and stock prices can shoot higher as shorts scramble to cover their losing positions. The current squeeze trigger in MDTL is $18.38, just below the price objective attained from the daily chart. This potential demand increase adds to the confidence level of taking a long position in MDTL at, or near, the current price.