The loonie is what Canadians affectionately call their one-dollar coin, which bears the image of a loon, a common Canadian bird. The currency has been in the news of late, as the Canadian dollar has reached all-time highs against the US dollar, with the loonie reaching parity against the US dollar for the first time. Years ago, only forex and futures traders could have taken advantage of this trading pair, which shows a nice history of trending behavior. Exchange traded funds (ETFs) now make currency trading accessible to those traders seeking the exposure and profit potential of foreign currencies without the high leverage associated with the trading vehicles.


CurrencyShares Canadian Dollar Trust (FXC) offers stock investors a way to bet on continued strength in the Canadian dollar. The ETF increases in value as the loonie strengthens, and decreases in value as the US dollar strengthens. The US currency has been in a steady decline for more than five years, and the popular media proclaims that there is no end to the freefall in sight. This ETF, along with others offered by CurrencyShares, make a new asset class available to conservative investors.


The chart of FXC looks bullish. FXC recently bounced off a long-term trendline supporting what has been a steady, year-long up move (Figure 1). It now seems ready to make a run at recent highs after a normal pullback from overextended prices. Often when a stock gets that far above its trendline, a rapid decline sets in. in this case, the trendline held, which usually means the uptrend will resume.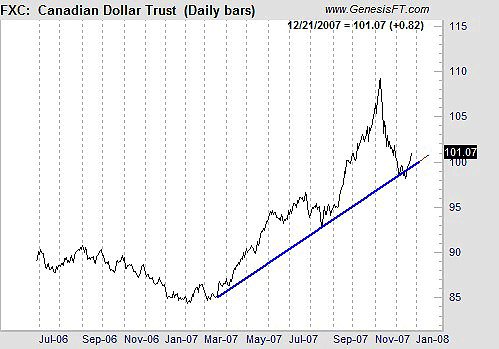 FIGURE 1: FXC, DAILY. FXC went through its trendline after a nearly parabolic rise and decline. It rose right back through the trendline, offering a bullish buy signal.
Graphic provided by: Trade Navigator.
Momentum indicators also signal further gains are likely in this stock. Stochastics, relative strength index (RSI), and the moving average convergence/divergence (MACD) all worked well at the spike top in early November, giving very timely sell signals from overbought levels. During the brief decline, the RSI held above 40, indicating that recent price action is a normal correction in a bull market. All indicators are now showing strong buy signals. (See Figures 1 and 2.)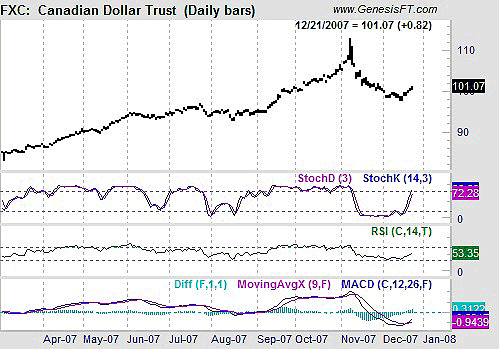 FIGURE 2: FXC, DAILY. Although stochastics is near overbought levels, it has a tendency to stay at those levels in FXC. RSI recently tuned higher and the MACD just gave a bullish signal. Strong indications of another leg up.
Graphic provided by: Trade Navigator.
A break of the recent lows, near 98, would indicate that the US dollar has reached an intermediate-term bottom and would tell us that this trade will not work. That's a risk of about 3%, an extraordinarily small amount in what should be a long-term currency trade.