PRINT THIS ARTICLE
RETRACEMENT
---
RIMM Gets Boring
12/21/07 10:05:44 AM
---
by Arthur Hill
---
Trading has turned boring for Research In Motion as the stock consolidates between a rock (support) and a hard place (resistance). The direction of the break will dictate the next signal.
Security:
RIMM
Position:
Hold
Figure 1 outlines the case for support around 99. The stock bounced off the 98-100 area at least three times in two months. There were two bounces in November and one in December. These bounces point to demand around 98-100 and reinforce this support area.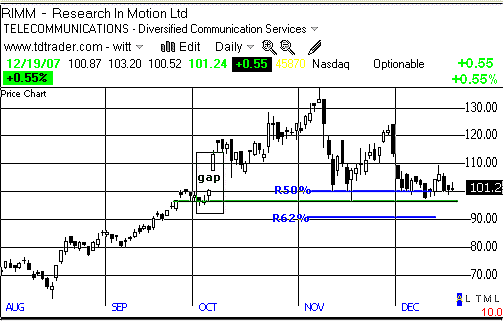 FIGURE 1: RIMM, DAILY. Here's the case for support around 99.
Graphic provided by: TeleChart2007.
In addition to the reaction lows, RIMM is finding support from the October gap and a key retracement. The stock surged over 60 points from August to early November without a pullback. The sharp November pullback retraced 50% of that advance and found support near the early October gap; 50% is normal for a retracement in an uptrend.


Now that we have established support, it is time to check on resistance for a breakout signal. After the November decline, RIMM consolidated for three weeks in December. There was a two-day turn last week, but RIMM met resistance from the gap and 110 is the level to beat. A break above 110 would solidify support and put RIMM back in bull mode. A test of the November highs would then be in order. See Figure 2.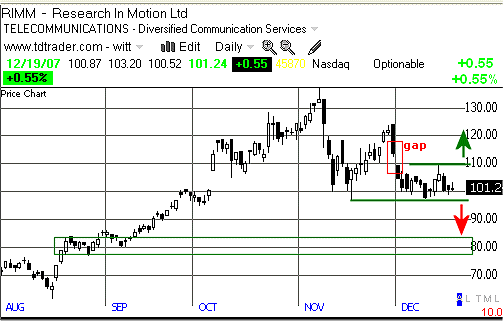 FIGURE 2: RIMM, DAILY. RIMM consolidated for three weeks in December after the November decline.
Graphic provided by: TeleChart2007.
Should the stock fail at resistance, a break below consolidation support would signal a continuation of the prior decline. The next support area is around 80 and this would be the first target.


---
Arthur Hill
Arthur Hill is currently editor of TDTrader.com, a website specializing in trading strategies, sector/industry specific breadth stats and overall technical analysis. He passed the Society of Technical Analysts (STA London) diploma exam with distinction is a Certified Financial Technician (CFTe). Prior to TD Trader, he was the Chief Technical Analyst for Stockcharts.com and the main contributor to the ChartSchool.
Title:
Editor
Company:
TDTrader.com
Address:
Willem Geetsstraat 17
Mechelen, B2800
Phone # for sales:
3215345465
Website:
www.tdtrader.com
E-mail address:
arthurh@tdtrader.com

Traders' Resource Links

TDTrader.com has not added any product or service information to TRADERS' RESOURCE.
---
Click here for more information about our publications!
Comments
Date:
 12/23/07
Rank:
 5
Comment:
Date:
 12/23/07
Rank:
 4
Comment:
PRINT THIS ARTICLE