PRINT THIS ARTICLE
---
Electronic Data Systems And Breaking The Downtrend
12/07/07 11:36:21 AM
---
by Mike Carr, CMT
---
Strong technicals in a fundamentally promising industry make EDS attractive.
Security:
EDS
Position:
Buy
Recent good economic news, the fact that productivity is growing at an annual rate of 6.3%, the best rate in four years, is good news for IT companies. Technology offers the best path to continued gains in productivity, and large companies capable of providing IT services stand to be big winners from this trend.


Over the next five years, the industry is expected to see earnings growth of more than 14.5%. Electronic Data Systems (EDS) is projected to grow in line with the rest of the industry. The upside with EDS is that its price/earnings ratio is about half of the industry average. With a P/E of 13, EDS would need to see gains of almost 70% just to trade in line with its industry.


EDS has just broken a downward-sloping trendline which has proven to be resistance three times over the past four months (Figure 1). Given its below-average beta of 0.74, EDS also offers some downside protection, should the market reverse. The low beta means that the stock should decline less than the overall market if the market resumes.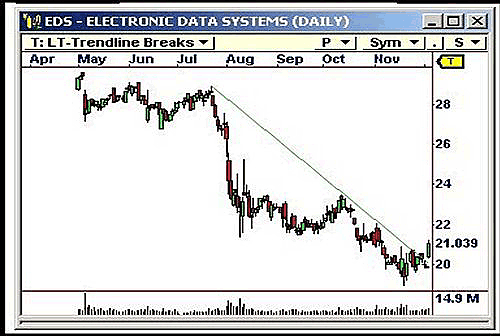 FIGURE 1: EDS, DAILY. EDS breaks through the downward-sloping trendline.
Graphic provided by: www.PatternScans.com.
Potential buying demand sits at $23.75, just more than 10% above the current price level. Buyins.net tracks short interest in stocks and calculates the average prices on those shorts, providing a squeeze trigger price. At the squeeze trigger, shorts can be squeezed and stock prices can shoot higher as shorts scramble to cover their losing positions. The current squeeze trigger in EDS is $23.75.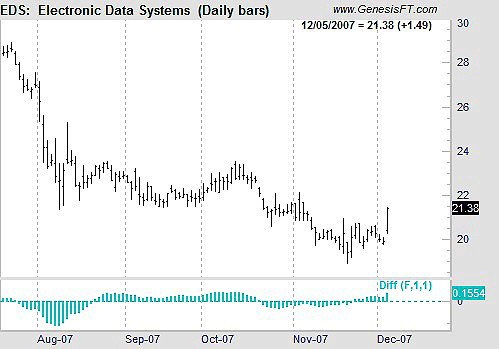 FIGURE 2: EDS, DAILY. EDS has shown a divergence in the MACD since August.
Graphic provided by: Trade Navigator.
The MACD showed a divergence during the recent down move, and is now positive (Figure 2). Divergences can indicate future price direction. When combined with other factors such as the strong fundamentals and potential short squeeze, the MACD divergence offers a powerful signal that higher prices are likely.

Closing the gap with a close under 20 provides a tight stop for this trade. Given the long-term potential and short-term strength, with a risk of slightly more than 5%, EDS is a buy at current levels.


---
Mike Carr, CMT
Mike Carr, CMT, is a member of the Market Technicians Association, and editor of the MTA's newsletter, Technically Speaking. He is also the author of "Smarter Investing in Any Economy: The Definitive Guide to Relative Strength Investing," and "Conquering the Divide: How to Use Economic Indicators to Catch Stock Market Trends."
---
Click here for more information about our publications!
Comments
Date:
 12/08/07
Rank:
 4
Comment:
PRINT THIS ARTICLE