PRINT THIS ARTICLE
ON BALANCE VOLUME
---
Accumulation In Ross Stores
12/07/07 11:26:57 AM
---
by Arthur Hill
---
Upside volume is surging for Ross Stores, and prices could be poised to follow suit.
Security:
ROST
Position:
Accumulate
Figure 1 shows Ross Stores (ROST) and on-balance volume (OBV). Developed by Joseph Granville, this cumulative indicator adds volume on up days and subtracts volume on down days. The theory is that volume precedes price. A surge in OBV should be followed by a surge in prices.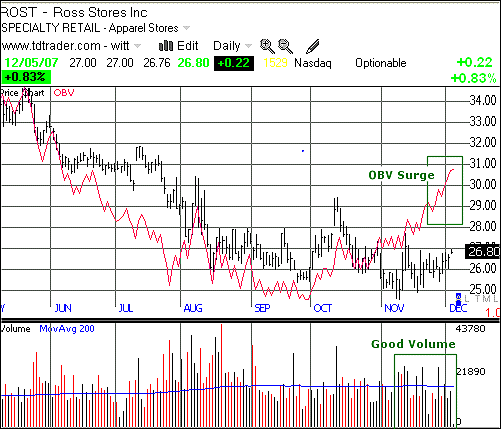 FIGURE 1: ROSS STORES, DAILY. A surge in on-balance volume should be followed by a surge in prices.
Graphic provided by: TeleChart2007.
On Figure 1, OBV bottomed at the end of September and surged over the last two months. The indicator formed a higher low in October and moved above its August high. This shows strong buying pressure (volume) on up days versus down days. A look at the volume bars shows that upside volume was above average numerous times in November. This would explain the surge in OBV.


Figure 2 shows ROST with the moving average convergence/divergence (MACD). The stock remains in a downtrend with two resistance levels: $28 and $29.50. There is also a trendline extending down from the May high. A move above $28 would break the first resistance level and the trendline. This would be quite positive and I would then expect a move above $29.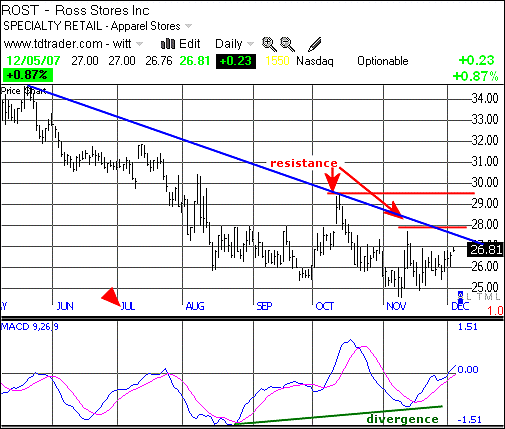 FIGURE 2: ROSS STORES, DAILY. Here's ROST with the MACD. The stock remains in a downtrend with two resistance levels.
Graphic provided by: TeleChart2007.
The MACD shows improving momentum, and this also favors a breakout. The MACD formed a large positive divergence over the last four months and moved into positive territory in December. The MACD is in good shape as long as it holds above its signal line and continues to rise. Positive momentum and strong OBV are bullish. Now let's see a break above $28 for confirmation.


---
Arthur Hill
Arthur Hill is currently editor of TDTrader.com, a website specializing in trading strategies, sector/industry specific breadth stats and overall technical analysis. He passed the Society of Technical Analysts (STA London) diploma exam with distinction is a Certified Financial Technician (CFTe). Prior to TD Trader, he was the Chief Technical Analyst for Stockcharts.com and the main contributor to the ChartSchool.
Title:
Editor
Company:
TDTrader.com
Address:
Willem Geetsstraat 17
Mechelen, B2800
Phone # for sales:
3215345465
Website:
www.tdtrader.com
E-mail address:
arthurh@tdtrader.com

Traders' Resource Links

TDTrader.com has not added any product or service information to TRADERS' RESOURCE.
---
Click here for more information about our publications!
Comments
Date:
 12/08/07
Rank:
 4
Comment:
PRINT THIS ARTICLE