PRINT THIS ARTICLE
SUPPORT & RESISTANCE
---
Oriental Financial Group Has Multiple Bullish Signs
11/29/07 12:08:55 PM
---
by Mike Carr, CMT
---
A small bank shines bright amid the ruins of financial stocks.
Security:
OFG
Position:
Buy
A bank with 25 branches in Puerto Rico doesn't sound like an extraordinary investment opportunity. But Oriental Financial Group (OFG) has several very bullish factors that make it an interesting selection for conservative investors. The signs for aggressive traders are even more bullish, and this is one of those stocks worth looking at, no matter what your objectives are.


OFG broke through resistance on above-average volume this week (Figure 1). It is significantly outperforming financials in what has been a very bad month for its peers. The recent breakout from an extended rectangle pattern gives a price target near 16, more than 15% higher than the current price.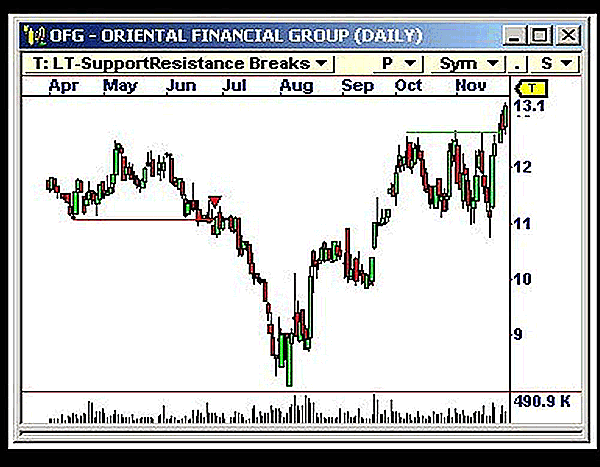 FIGURE 1: OFG, DAILY. Oriental Financial Group is breaking through short-term resistance.
Graphic provided by: www.PatternScans.com.
At that price level, the action in this stock could get very interesting. Buyins.net tracks short interest in stocks and calculates the average prices on those shorts, providing a squeeze trigger price. At the squeeze trigger, shorts can be squeezed and stock prices can shoot higher as shorts scramble to cover their losing positions. The current squeeze trigger in OFG is $16.06, very close to the price objective.


Shorting OFG is a gutsy move. The stock has a 4.4% dividend, and short-sellers must pay that to the shareholders they borrow their position from. This is also a fairly low-volume stock, with average daily volume of less than 200,000 shares. Insiders own almost a quarter of the outstanding shares, and institutions hold more than 60%. Against these odds, short-sellers have positions that will take more than eight days to cover at the average trading volume.


That's about as bullish as it can get from a technical perspective. Fundamentally, the stock is completing a turnaround and is trading at nine times next year's earnings estimate. That's about as bullish as it gets from a fundamental perspective. Given the relatively high yield and strong projected growth, OFG is worth a look by all investors.


---
Mike Carr, CMT
Mike Carr, CMT, is a member of the Market Technicians Association, and editor of the MTA's newsletter, Technically Speaking. He is also the author of "Smarter Investing in Any Economy: The Definitive Guide to Relative Strength Investing," and "Conquering the Divide: How to Use Economic Indicators to Catch Stock Market Trends."
---
Click here for more information about our publications!
Comments
Date:
 12/06/07
Rank:
 5
Comment:
PRINT THIS ARTICLE