PRINT THIS ARTICLE
SUPPORT & RESISTANCE
---
Constellation Energy Group And A Low Risk In A Volatile Market
11/26/07 01:57:49 PM
---
by Mike Carr, CMT
---
With the market having lost nearly 10% in recent weeks, safety should be a consideration for all investors.
Security:
CEG
Position:
Buy
Utility companies are known as boring stocks, but with the market providing more excitement than many investors can bear, now might be a good time to take a fresh look. Constellation Energy Group (CEG) is one of the largest wholesalers of energy in the United States. It is involved in electricity, natural gas, and coal, hedging its bets against a rise in any individual market. The company traces its roots back to a regulated utility, Baltimore Gas and Electric, a division that still delivers steady profits. With a 1.7% dividend yield, this stock sounds like it's as boring as can be.



But while all eyes were fixed on the subprime market, the declining dollar, and rising oil, utilities have quietly become a top-performing industry group, gaining more than 12.5% over the past six weeks. As investors become nervous, utilities represent a defensive position.


CEG represents a good buy at this point. The stock just broke through to new all-time highs (Figure 1). It also broke through short-term resistance, and since it did all this against the background of a declining market, CEG looks like it can move higher from current levels.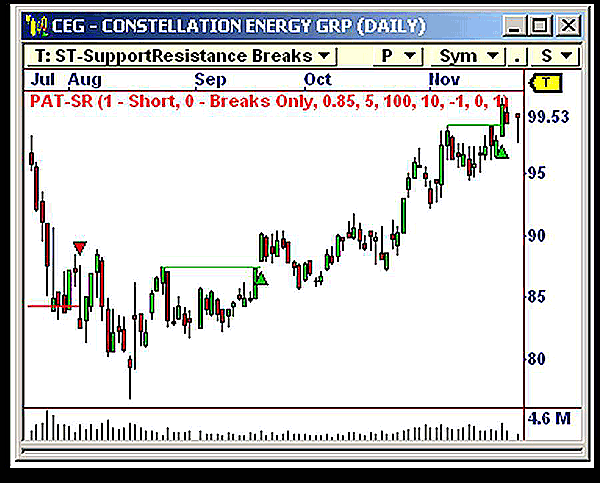 FIGURE 1: CEG, DAILY. CEG breaks out to new all-time highs.
Graphic provided by: www.PatternScans.com.
There is limited risk associated with buying CEG. The stock has shown a tendency recently to form bases and then break out to new highs (Figure 2). The previous base offers well-defined stops. Conservative investors can treat any entry back into the base as a sell signal; aggressive investors can wait for the bottom of the base to be broken before selling. With a stop near 98 for conservative investors, or 94 for aggressive traders, this is a very low-risk trade.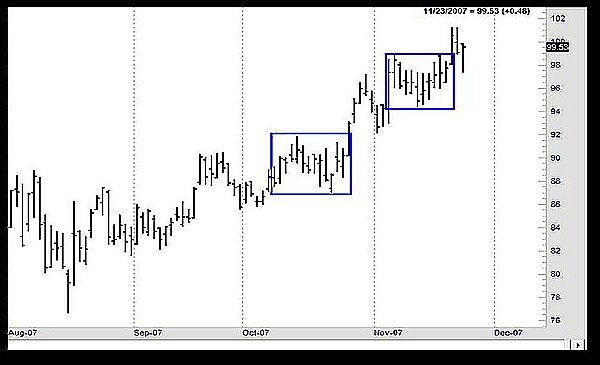 FIGURE 2: CEG, MONTHLY. Bases identify stop-loss points in the uptrend.
Graphic provided by: Trade Navigator.
Traders seeking more assurance that the downside is limited can look to CEG's beta of 0.43. This means the stock is expected to move less than half as much as the overall market, so another 10% decline in the Dow Jones Industrial Average would lead holders of CEG to expect a loss of less than 5%, above the stop for aggressive investors.


---
Mike Carr, CMT
Mike Carr, CMT, is a member of the Market Technicians Association, and editor of the MTA's newsletter, Technically Speaking. He is also the author of "Smarter Investing in Any Economy: The Definitive Guide to Relative Strength Investing," and "Conquering the Divide: How to Use Economic Indicators to Catch Stock Market Trends."
---
Click here for more information about our publications!
Comments
Date:
 11/27/07
Rank:
 3
Comment:
Date:
 11/27/07
Rank:
 4
Comment:
PRINT THIS ARTICLE