PRINT THIS ARTICLE
GAPS
---
Biogen's Gift Horse Gap Closes
11/26/07 01:55:23 PM
---
by Gary Grosschadl
---
Here's an example of a gapping play, with the danger and the opportunity.
Security:
BIIB
Position:
Buy
Figure 1, a daily chart of Biogen Idec, Inc. (a biotechnology company specializing in drugs for neurological disorders, autoimmune disorders, and cancer), is a great example of what often happens on a large gap up. In this case the stock hit its 52-week high of $84.75 in early October after soaring on buyout rumors; note the spinning top candlestick hinting that this was a potential top. The axiom "buy the rumor, sell the news" obviously would have failed in this case.


Patient traders often keep their powder dry and wait for gaps to close as a much wiser and safer entry.
This is the opportunity now for the intrepid short-term trader or the fortunate longer-term trader who may have taken the gift horse at face value, cashed in and wants back on this bucking bronco. The gap is closed, buying on support.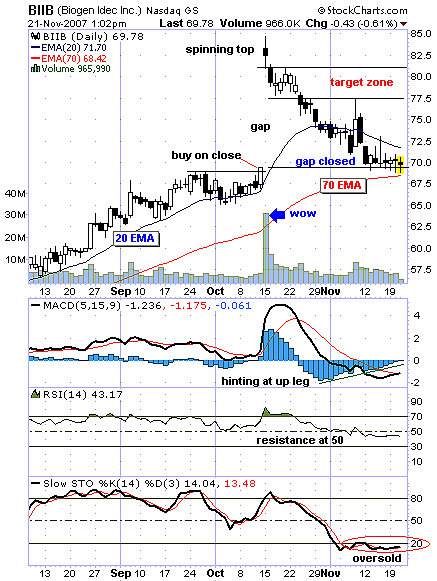 FIGURE 1: BIOGEN, DAILY. The large/dangerous gap now is closed, affording a safer entry.
Graphic provided by: StockCharts.com.
Note there was an opportunity for a momentum-type trader who sees a buy. This would have been a safe entry for a possible breakout play. The stock closed on a new high after finding support from the nearby 20-day exponential moving average (EMA). It does not get much safer than that for a potential breakout play; the trick is you have to be watching this stock closely to buy before the closing bell or have a buy-stop order in place. The order is triggered when the market price touches or goes through the buy-stop price. If the price exceeds the price you have set, it will automatically trigger a market order.


The indicators below the chart are considered, with the most hopeful being the MACD (moving average convergence/divergence). Here we see a bullish cross of the signal line just beginning and its histogram showing a positive divergence to recent price action.
The relative strength index (RSI) languishes below its key 50-level warning of overhead resistance. The stochastic oscillator shows an oversold condition and needs to turn up through the 20 level to reflect a potential up-leg beginning.


An aggressive short-term play is suggested with a target zone between $77.50 and $81. Action at the nearby moving averages need to be monitored, as the next move will likely be a bearish close under the 70-day EMA (negating a buy) or a bullish close above the 20-day EMA, currently 71.70.


---
Gary Grosschadl
Independent Canadian equities trader and technical analyst based in Peterborough
Ontario, Canada.
---
Click here for more information about our publications!
Comments
Date:
 11/27/07
Rank:
 5
Comment:
PRINT THIS ARTICLE