Crocs Inc. is a designer, manufacturer, and marketer of footwear for men, women, and children under the Crocs brand. Its footwear and imitators of its footwear can be seen in almost every shop throughout the world, and in colors that would make the rainbow appear dull. Its stock price rose 645.56% from March 2006 to October 2007, one of the great success stories on the market, and then--

Between July 27, 2007, and October 31, 2007, a class action lawsuit was filed in the US District Court on behalf of purchasers of Crocs Inc. securities. The complaint charges Crocs Inc. and certain of its officers and directors with violations of the Securities Exchange Act of 1934.

According to the complaint, during the class period, defendants issued materially false and misleading statements that misrepresented and failed to disclose:

(i) That the company was experiencing significant distribution problems in Europe as it moved distribution facilities and was experiencing distribution problems in Japan with a third-party distributor, causing the company to lose tens of millions of dollars in sales;
(ii) That the company's sales were being negatively affected by seasonal conditions as consumers reduced purchases of the company's products in cold weather climates;
(iii) That the company's inventory levels were building far beyond historical levels as sales began to slow and the company's sales began to be affected by seasonality; and
(iv) Based on the foregoing, defendants lacked a reasonable basis for their positive statements about the company, its earnings and prospects.

Because of this action, the stock price was virtually halved, falling to a low of $33.75 by November 8, 2007. The question now is was this fall orchestrated for the benefit of short-sellers and was it justified? Joan Walsh on CNBC's Kudlow and Co. believes not. She has stated that the "sell" was overdone, and that CROX is now a buy. Host Lawrence Kudlow cut her short and never commented on what she said.

What do my charts say?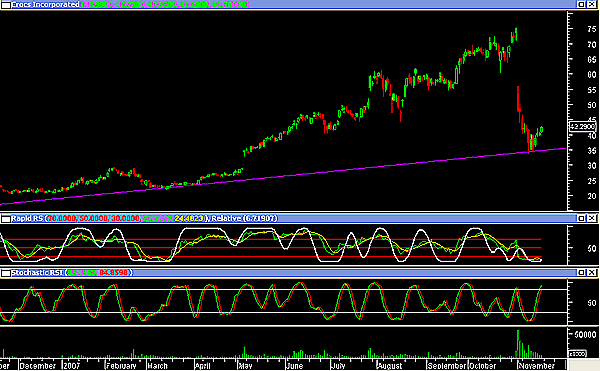 FIGURE 1: CROC, INC., LONG-TERM. Here's a long-term chart of Croc, Inc.
Graphic provided by: MetaStock.
Figure 1 is a MetaStock chart showing how the share price moved to its high of $75 in November 2007 and then crashed to $33.75, finding support on its long-term trendline. The indicators on the chart are in order:

- Relative strength spread (white indicator)
- Rapid relative strength index (RSI) (yellow and green indicators), and
- Stochastic RSI.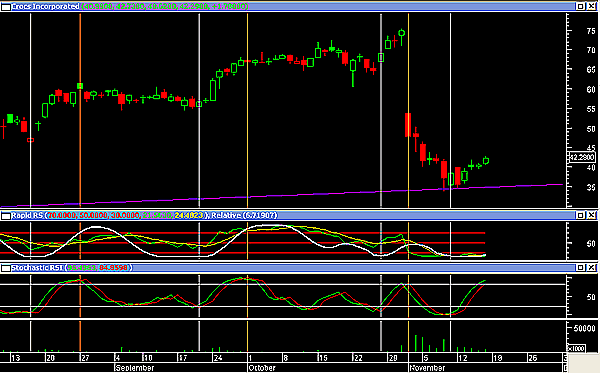 FIGURE 2: CROC, INC., DAILY. This chart of Croc Inc. shows buy and sell signals.
Graphic provided by: MetaStock.
In Figure 2, I have highlighted with vertical white lines where the stochastic RSI gave buy signals confirmed by the rapid RSI and relative strength spread. With sell signals, the chart shows that the crash was not anticipated by the indicators, with the stochastic RSI approaching overbought level, but not yet giving a sell signal.

As of Friday November 16th data, the stochastic RSI is approaching overbought levels, not confirmed by either of the other two indicators. This suggests that the present rise could be short-lived, and a move down to retest the support line could occur. Indicators are suggesting that this could be a buying opportunity when the stochRSI indicator gives a buy.

The company is sound. The profits are still rolling in a popular product, but as we all know, we should never buy shares in a company that has a class action or any other suit against it, but it is oh so tempting.