PRINT THIS ARTICLE
SUPPORT & RESISTANCE
---
LIN TV - Profits From Election Season?
11/14/07 02:15:53 PM
---
by Mike Carr, CMT
---
In an oversold market, bargain hunters can start looking for stocks with good long-term prospects. Lin TV has strong potential in the coming weeks and over the next year.
Security:
LTV
Position:
Buy
Lin TV Corp. (TVL) owns 29 television stations in 17 different markets, mainly in the eastern United States. This is a company poised to take advantage of what is expected to be an expensive Presidential campaign. TVL will profit from advertising sales regardless of who wins the nomination or the election. Lin TV comes with a compelling fundamental story; all those political ads are good for the company. Analysts are looking for earnings to grow by more than 100% in 2007, and another 200% in 2008.


Many traders, however, would look at TVL's chart as anything but bullish. In the past week, it broke through a significant support level at 12. It has actually been trending lower for four months. But the recent selloff may be overdone and the history of this stock tells us that it's a buy at this level. The stock has broken below its lower Bollinger Band; in fact, it is now more than 2.5 standard deviations below its 20-day moving average. Testing shows that buying TVL whenever price has broken to a new 65-day low has been profitable on average, across all holding periods from five to 60 days. See Figure 1.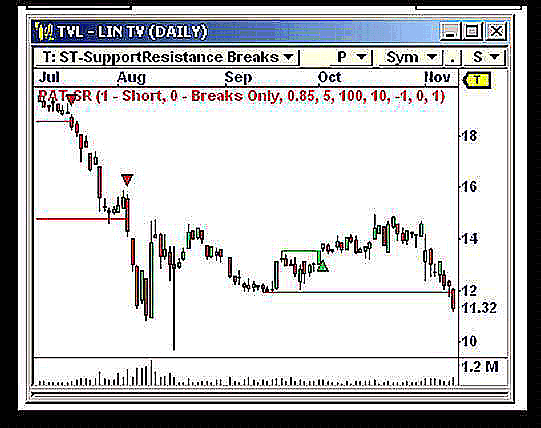 FIGURE 1: LIN TV, DAILY. The daily chart of Lin TV Corp. showed decline from July 2007.
Graphic provided by: www.omnitrader.com.
An additional factor that could drive LTV higher is that Buyins.net (www.buyins.net) reports its most recent SqueezeTrigger price is $11.86, about half a dollar above the stock's current price. When opening a short position, traders hoping to profit from price declines must borrow the stock before they can sell it. Buyins.net reports short positions on more than 15,000 stocks and highlights those nearing the SqueezeTrigger, which is the cumulative average price at which short positions were initiated. A short squeeze can occur when the price nears or rises above the price where short positions were initiated. As the price goes higher, short-sellers need to buy the stock back to cover their now-losing positions. Stocks with larger short interest often see dramatic short-covering rallies.


As of the end of October, traders had shorted 10 days of average trading volume in LTV and the cumulative SqueezeTrigger price was $11.86, with LTV closing at $11.32, which means the shorts may start experiencing losses if the stock price starts moving higher.


For traders with higher risk tolerance, LTV represents a good buying opportunity in a market that is severely oversold. If stocks move higher in the week ahead, buying stocks such as LTV that are about to become potential short squeezes could lead to rapid profits. Of course, no position should be entered without a stop in this or any other market.


---
Mike Carr, CMT
Mike Carr, CMT, is a member of the Market Technicians Association, and editor of the MTA's newsletter, Technically Speaking. He is also the author of "Smarter Investing in Any Economy: The Definitive Guide to Relative Strength Investing," and "Conquering the Divide: How to Use Economic Indicators to Catch Stock Market Trends."
---
Click here for more information about our publications!
Comments
PRINT THIS ARTICLE