My last discussion of silver pointed out how patterns in the stochastic and the moving average convergence/divergence (MACD) histogram helped precious metals traders get a timely entry into the advancing silver market in mid-September ("MmM Pattern Breakout In December Silver Sends The Precious Metal Higher," Traders.com Advantage, September 26, 2007).


Those entries, at roughly 13.10-1/2 and 13.47, provided for excellent swing trades to the upside within as little as three days. The rally that followed these entries topped at approximately 14 on the final trading day of September before pulling back as much as 80 cents in the first few days of October. Silver futures found support at the 13.20 level and rallied again into midmonth, reaching an intraday high of 14.11 on October 15. See Figure 1.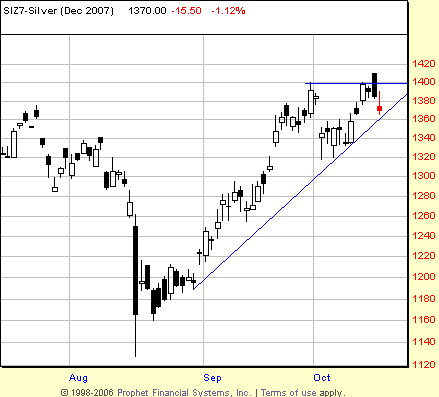 FIGURE 1: SILVER, DECEMBER FUTURES, DAILY. Silver futures rallied to new highs in October. But failure to follow through with new closing highs beyond the new highs suggests that, at a minimum, a period of consolidation may be near.
Graphic provided by: Prophet Financial, Inc.
However, advancing prices did not succeed the new highs in October. Instead, the new intraday highs themselves came as the market for December silver opened up at what would be the highs of the day and closed some two to three cents away from the lows. This reversal session was followed by further weakness as silver futures threatened to take out the low of the session during which the previous new high from late September was made. See Figure 2.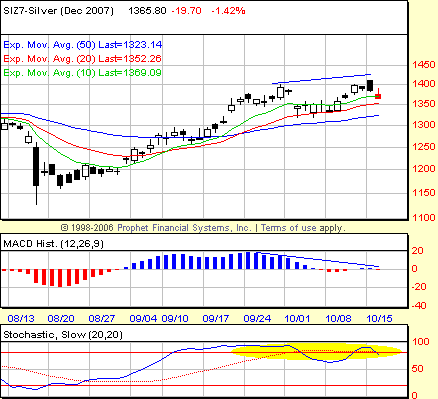 FIGURE 2: SILVER, DECEMBER FUTURES, DAILY. Negative divergences in both the MACD histogram and the stochastic confirm the precarious nature of the new high in October.
Graphic provided by: Prophet Financial, Inc.
The pattern developing in December silver in mid-October is known as the 2B (also Turtle Soup). When a market makes a new high, pulls back, and makes a higher high, then fails to follow through to the upside, it often signals significant waning of momentum. Whether a trader elects to use such waning momentum to the upside as an opportunity to go short is one thing. But those on the long side of such markets would do well to reduce their exposure until the correction — however sharp or sideways — resolves itself.


For those looking to make a bet against December silver based on these patterns, the MACD histogram signal provided for an entry as of the close on Tuesday, October 16, at approximately 13.658. The sell/short signal in the stochastic, by contrast, arrived on the 16th — meaning it will require a follow-through, confirming close below the low of the 16th at approximately 13.64 in the next few sessions.