While 2000 will be remembered as a particularly brutal year for many stocks--especially technology and telecommunications stocks--and a great year for investments in utilities and other defensive stocks, a number of stocks in 2000 simply didn't do much of anything. Qwest [Q:NYSE] is among this group. Entering 2000 at 39.50 and leaving 2000 at about 38, Qwest was more a model of market complacency than anything else. This complacency may have been unfounded. Going into 2000, Qwest was on a gradual uptrend that extended back to the fall of 1998. Taking its knocks along with everyone else in the fall of 1999 and in the big meltdowns of spring 2000, Qwest has nonetheless managed to hold most of its ground. For those who were willing (and able) to ride out the storms, Qwest may be on the verge of escaping to calmer waters.


A most welcome sign for Qwest bulls might be the money flow index (MFI) shown below. The MFI shows a gradual dropping off of buying over the course of 2000, with a more sudden drop off in November and a strong rally in January. That the drop off in MFI occurs during an otherwise low volume session is one sign that, perhaps, the Qwest sellers here are fewer--even if they still technically outnumber the buyers. By comparison, the volumes during late November and December--when Qwest was declining--were smaller than the volumes during January--as Qwest rallies from lows not seen since October 1999. The relative strength index (RSI) similarly shows a reversal of the gradual downward trend of Qwest. Also welcome is the fact that RSI is still some distance from any overbought (or oversold, for that matter) condition, meaning that there may be plenty of room for Qwest to advance.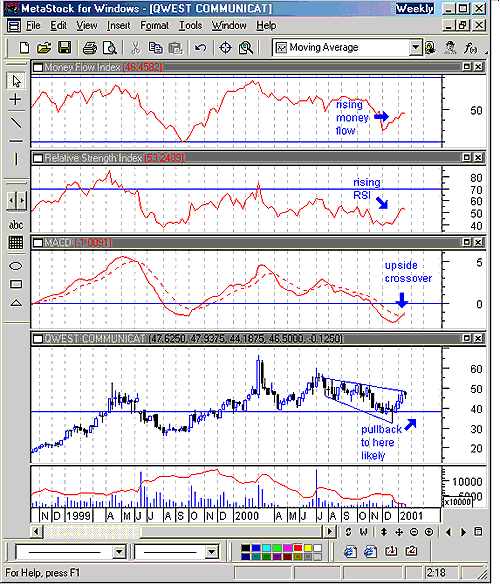 A number of indicators suggest that Qwest's secular uptrend may resume as an upside breakout from a descending, broadening wedge.
Graphic provided by: MetaStock.
But one of the more encouraging indicators is an old favorite, the moving average convergence divergence (MACD) indicator. Not only is the MACD moving upside of its signal line at the beginning of January, but also the MACD is making a strong upside move on the zero line--typically a strongly bullish development. What is interesting to note here is that Qwest's MACD was in a very similar position back in the fall of 1999, when it rallied from 36 to a high of 64 by early March, a 78% move up.


I like to think of these indicators as support for what I see as a broadening, descending wedge in Qwest. (I should emphasize that I am using a weekly chart for Qwest.) The broadening, descending wedge is a bullish consolidation pattern--meaning advances are likely when prices break out of the formation. There is often a rising volume trend accompanying the pattern. Here, a moving average of volume suggests rising volume about mid-way through the formation. The drop in volume over the last few weeks is not a strong sign, but if a breakout is imminent, then a brief period of lower volume in advance of a breakout is understandable.


What would a Qwest breakout look like? Breakouts from broadening, descending wedges occur when prices rally--on strong volume, of course--above the highest point of the formation. Incidentally, broadening, descending wedges tend to feature pullbacks before breaking out on the upside, according to Bulkowski. Looking at the Qwest chart, there is a support level at 38 that is above the formation low and may serve as the pullback point should Qwest act like a typical broadening, descending wedge. As for upside potential, the measurement rule for broadening, descending wedges calls for adding the formation height to the breakout point of the formation. In this case, a formation height of about 11 could yield an upside price target of as much as $60 per share. The challenge from that point, of course, would be a test of the 2000 highs of $64 per share reached in March.


Comments
Date:
 01/30/01
Rank:
 5
Comment:
 thanks!bet the farm, long Q at 32 bgun1@silverstar.com