PRINT THIS ARTICLE
SUPPORT & RESISTANCE
---
Nasdaq Resistance and Support
01/18/01 02:27:53 PM
---
by Dennis D. Peterson
---
Changing the time frame of a chart can often reveal trends, resistance and support more easily.
Security:
$compq
Position:
N/A
Often daily data will obscure trends as well as resistance and support because of the noise. Using weekly data often solves the problem. The top chart of Figure 1 shows the recent activity of the Nasdaq using a daily chart.


In an earlier posting (Aroon and the Nasdaq Composite, 1/16/01) I tried to validate a consolidation in the mid-October to mid-November time frame using Aroon. I used daily data. When weekly data is plotted the picture becomes clearer. The bottom chart of Figure 1 charts the Nasdaq composite using weekly data and using a semi-log scale.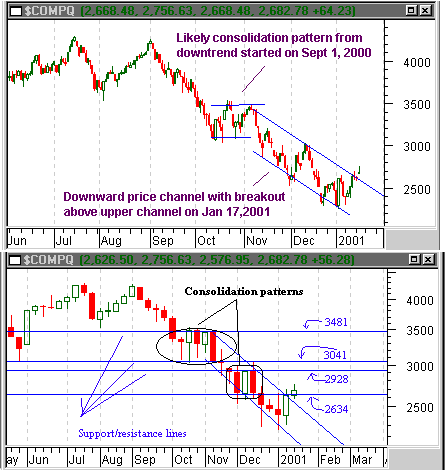 Figure 1: The Nasdaq composite charted using daily data with a standard arithmetic scale (top chart) and weekly data with a semilog scale (bottom chart).
Graphic provided by: MetaStock.
Graphic provided by: Data vendor: eSignal<.
A number of observations can be made:

1. A Nasdaq consolidation is evident in October.
2. The first three candles for the October consolidation all have long lower shadows indicating the market wants to go down. In fact, using the shadow lengths, a descending right triangle nearly formed.
3. A second consolidation occurred in December.
4. The current activity is not a consolidation.
5. The Nasdaq has broken above a resistance line at 2634.
6. The next hurdles are 2698, 3041, and finally 3481.

Why bother with these kind of observations? Some of the best trading strategies, such as those following Gann ideas, require knowing whether an equity is in an uptrend or downtrend. In the case of Gann you also want to know what the swing channels are. Uptrends in Gann terminology require knowing whether the nearest peak has been taken out, and downtrends whether the nearest valley has been taken out. Swing direction changes to up when two consecutive highs are encountered and changes to down when two consecutive lows are encountered. What Gann proposed, in effect, was using the trend and the swings to identify the framework for buying and selling. Trends require more time to develop than swings. Changing time frame often makes trend identification easier and therefore more reliable.



---
Dennis D. Peterson
Market index trading on a daily basis.
---
Click here for more information about our publications!
Comments
Date:
 02/03/01
Rank:
 1
Comment:
Date:
 06/21/03
Rank:
 4
Comment:
PRINT THIS ARTICLE