PRINT THIS ARTICLE
REVERSAL
---
A Cocoa Pop? Positive Divergence And Seasonal Trends
09/11/07 11:48:58 AM
---
by David Penn
---
A positive divergence in the MACDH anticipates the seasonal "September rally" in cocoa futures.
Security:
CCZ7
Position:
N/A
According to the Commodity Trader's Almanac, the December contract of cocoa futures tends to be under pressure somewhat in the September–October time frame. This is allegedly because of the timing of the second harvest of cocoa. This tendency of cocoa futures to decline in September is referred to by traders as the "September Slammer."


As a consequence, analyst Scott Barrie, writing in the Almanac, suggests that rallies in cocoa futures that take place in September are often worth selling as October rolls around.


Looking at the chart of December cocoa (Figure 1), it appears as if the September rally component of this strategy seems to be setting up. Namely, after a major decline over the second half of the summer that saw cocoa futures fall from the 2150 level to as low as 1750, a positive divergence in the moving average convergence/divergence histogram (MACDH) is signaling that the decline may have come to an end.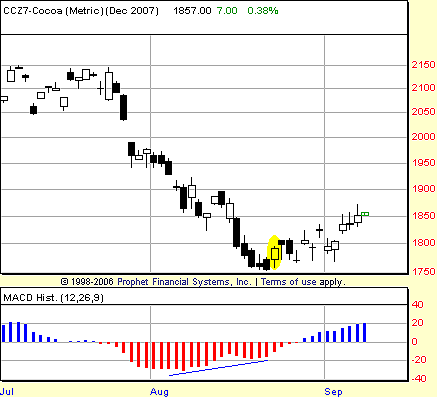 FIGURE 1: COCOA, DECEMBER FUTURES, DAILY. A positive divergence in the MACD histogram signals waning downside momentum in mid-August.
Graphic provided by: Prophet Financial, Inc.
The low in the MACDH was made on August 7, with December cocoa trading at 1864. From that moment, the MACD histogram began moving higher while prices for December cocoa continued to decline. By the time December cocoa made its low on August 22, the MACDH climbed by more than 40%. This created a positive divergence and was a major signal that momentum to the downside had waned significantly.

The specific entry would have taken place as of the close on August 23. The close of that session served as a confirming close in the wake of the positive divergence buy signal. This signal was completed on August 21 as the MACDH, as part of a positive divergence, completed a PpP pattern. That signal required a closing high above 1780, which first occurred on August 23 with a close of 1792.


Long at 1792, the maximum drawdown in this trade was approximately $250 as December cocoa sagged to 1767 on August 28. It is worth pointing out that trading tops and bottoms often requires more patience than trading dips and bounces in trends. Nevetheless, patience was well rewarded for those traders who climbed on board near 1792, with December cocoa trading at approximately 1857 and up some $650 per contract as of this writing.


---
David Penn
Technical Writer for Technical Analysis of STOCKS & COMMODITIES magazine, Working-Money.com, and Traders.com Advantage.
---
Click here for more information about our publications!
Comments
PRINT THIS ARTICLE