PRINT THIS ARTICLE
REVERSAL
---
Not So High On The Hogs: Divergences And Breakdowns In The October Contract
09/11/07 10:54:13 AM
---
by David Penn
---
Negative divergences in the stochastic and the MACD histogram anticipated a late summer correction in lean hog futures.
Security:
LHV7
Position:
N/A
Although the odds are slight, there is a tendency for the October contract in lean hog futures to advance in July and for that July strength to be "reversed" in August, according to the Commodity Trader's Almanac.


It appears that 2007 will be added to those years in which these seasonal tendencies were born out. After a strong rally in lean hogs that began in earliest July, the market topped a few trading days into August. By midmonth, the market had taken away more than half of the previous month's gains.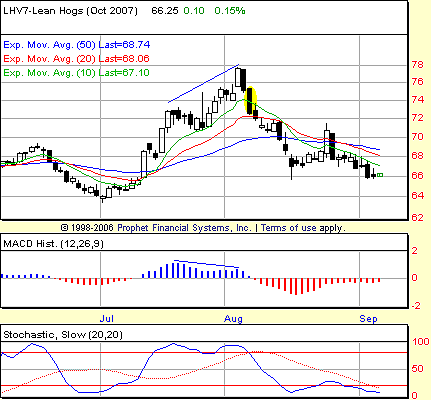 FIGURE 1: LEAN HOGS, OCTOBER FUTURES, DAILY. The negative divergence in the MACD histogram was mirrored by a negative divergence in the stochastic just as the October lean hogs contract was rallying into August. These negative divergences helped prepare traders for the downside that followed over the balance of the month. The highlighted oval represents the session during which the negative divergences were confirmed as of the close.
Graphic provided by: Prophet Financial, Inc.
In addition to the seasonal tendencies toward August weakness following July strength, the technical indicators helped traders anticipate that August would likely not resemble the previous month. Foremost among these indicators was the moving average convergence/divergence histogram (MACDH), which revealed a negative divergence between the mid-July high and the high in the first few trading days of August (see Figure 1). This negative divergence, when prices made higher highs while the indicators made lower highs, was confirmed by the stochastic, which also made lower highs while prices were making higher highs.


At a minimum, this was a signal for long-side traders to reduce their exposure to the market for lean hogs. More aggressively, traders who wanted to bet against the rally in lean hogs now had their signal. All that would be required to set those short trades in motion would be a confirming close.


That confirming close came shortly afterward. The MACDH ticked down, completing the negative divergence on August 6. A confirming close would occur when the market closed below the low of that August 6th session. As it happened, that confirming close took place on the following session, August 7, at approximately 72.575. As of the close five days later, October lean hogs were trading at 69.80. That 277-point move was worth approximately $1,108 per contract, with minimal drawdown along the way.


---
David Penn
Technical Writer for Technical Analysis of STOCKS & COMMODITIES magazine, Working-Money.com, and Traders.com Advantage.
---
Click here for more information about our publications!
PRINT THIS ARTICLE