Of all the cyclical plays in the commodities, the cyclical play on gold probably ranks among the most cherished of commodity traders. Perhaps because gold attracts not just those who like to trade commodities, but also those otherwise futures-agnostic traders who are looking to make money from the tendency of governments to debase their currencies, the attention to this seasonal tendency in gold has remain rapt.


End-of-year demand for the December holiday season is largely credited for the seasonal behavior. Writes Scott Barrie for the Commodity Trader's Almanac 2007, "Preparation for the shopping season usually begins in September, as European manufacturers/fabricators come back from vacations, and retail outlets begin ordering inventory to meet holiday demand." This, according to Barrie, "makes the September-through-December period the strongest on record for gold futures."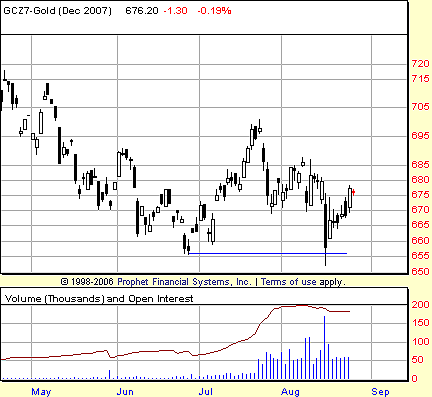 FIGURE 1: GOLD, DECEMBER FUTURES, DAILY. A test of the late June lows creates a 2B bottom opportunity in December gold. Five days after entry, the position was up $850 per contract on the bounce off the bottom.
Graphic provided by: Prophet Financial, Inc.
It is in this context that I look at the 2B bottom that appears to have developed with the move down in December gold in mid-August (see Figure 1). This move lower led to a test of the previous low from late June. When the market for December gold futures penetrated those June lows to the downside on an intraday basis, but then closed above those lows and, moreover, showed more follow-through to the upside in the very next session, a 2B bottom had indeed been established. This meant higher prices for gold in the near term.


Ideally, when the market closed above the high of the session when the late June lows were made, the market would have also been closing above the high of the session when those lows were exceeded in August. I like to use a confirming close beyond the entire pattern to establish a true sense of a market ready to head in a given direction. In this case, that would have meant waiting for December gold to rally and close above 678.50 instead of a much lower 660.50. However, it is also possible to make a bet on a 2B bottom simply after waiting for the market to close above the high of the initial low session.


Here, such a strategy worked out very well as the December gold market moved steadily higher, with each session post-entry marking higher lows and almost every session marking higher highs as well. Five days after entry at or near the 660.50 level, December gold was closing at 677.50. If there is indeed more seasonal upside for gold, then this play off the bottom was not a bad way to get that party started.