PRINT THIS ARTICLE
REVERSAL
---
USD/CHF: Positive Divergences And Hammer Candlestick Lines
08/08/07 11:46:32 AM
---
by David Penn
---
"I'm not dead yet!" cried the greenback, as divergences and reversal patterns hint at a bottom.
Security:
USDCHF
Position:
N/A
Market technicians like me who have been looking for a bottom in the US dollar have resembled little more than those who, as early as 1998, began looking for a secular top in the stock market.


Perhaps like those seers of the late 1990s, dollar bulls will be proven "late but correct." While some of the smartest people around like Peter Schiff of Euro Pacific Capital (and author of Crash Proof: How To Profit From The Coming Economic Collapse) believe the dollar could collapse any day, other no-less-bright minds such as Tim Wood of Cycles, News and Views suggest that the support the dollar has found near the 80 level in the US Dollar Index should provide some caution for those who believe the ultimate breakdown in the dollar is imminent.


Most recently, the US dollar/Swiss franc currency pair seems to have sided with Wood. I say this because a number of bullish -- or at least "counterbearish" -- developments have appeared in the daily charts of the USD/CHF. Whether these developments embolden greenback bulls or merely warn greenback bears remains to be seen. But it does appear that the USD/CHF pair has become worth watching -- again.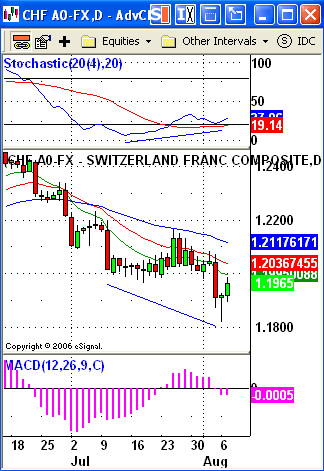 FIGURE 1: US DOLLAR/SWISS FRANC (USD/CHF), DAILY. Positive divergences in the MACDH and the stochastic combine with a hammer candlestick line to suggest an opportunity to the upside in the greenback/swissy pair.
Graphic provided by: eSignal.
First up is the growing positive divergence, now in evidence in both the moving average convergence/divergence histogram (MACDH) as well as the stochastic (Figure 1). The low point of the MACDH came in early July, at a time when the USD/CHF still had at least another 200 points' worth of downside. The low point in the stochastic arrived a little later, but also in the first half of the month when the currency pair was still making lower lows.


These positive divergences have been helped tremendously by the appearance of a hammer candlestick in early August. While the positive divergence reflects waning downside momentum, the hammer candlestick not only underscores that weakness on the part of bears, but also reveals through the pattern of its real body and shadow of the session when that weakness became clear to all observers. All that is required to confirm the hammer candlestick as a reversal pattern is a close above the high of the pattern. The fact that the MACDH is ticking up in a bullish PpP pattern is further supportive to the bull case.


---
David Penn
Technical Writer for Technical Analysis of STOCKS & COMMODITIES magazine, Working-Money.com, and Traders.com Advantage.
---
Click here for more information about our publications!
PRINT THIS ARTICLE