The Dow Jones Utilities Average (DJUA) topped in the spring of 2007 near 535. From that high in mid-May, the DJUA fell to about 485 by the second half of June before bouncing to a high just north of 520 by mid-July.


Since then, the DJUA has slipped back into correction mode, creating a new low for the decline as it failed to take out the May high and, instead, took out the June lows in ferocious fashion in the second half of July (Figure 1).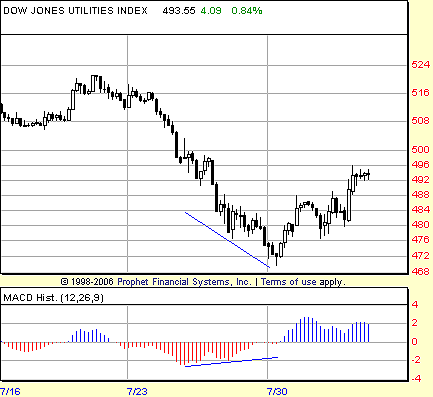 FIGURE 1: DOW JONES UTILITIES INDEX, HOURLY. Divergences early in the second half of July helped traders anticipate this bottom in the utilities average. Note also the morning star pattern that appears at precisely the moment when the market reverses.
Graphic provided by: Quote.com.
The utilities have been in rally mode ever since, moving higher in a nearly vertical advance that as of this writing has retraced just short of 50% of the late July decline. The bottom that made the rally possible was telegraphed fairly clearly by the moving average convergence/divergence histogram (MACDH). But you had to be looking at the hourly charts in order to spot it. See Figure 2.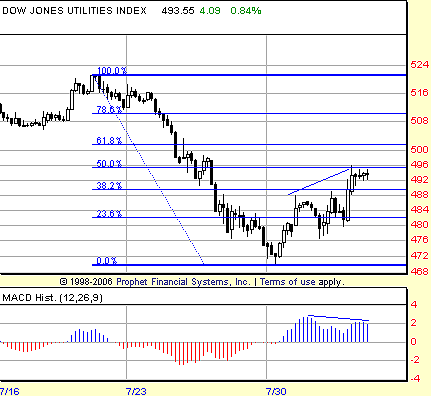 FIGURE 2: DOW JONES UTILITIES INDEX, HOURLY. As the utilities average climbs toward a 50% retracement of its late July correction, negative divergences begin to appear in the MACD histogram. While the DJUA is likely to continue moving higher in the near term, momentum to the upside is clearly growing weaker.
Graphic provided by: Prophet Financial, Inc.
The MACDH began making a series of higher lows in the hourly charts on July 26 and did so again on July 30 while the DJUA was continuing to move lower. The hourly charts also reveal the key moment when momentum to the downside ran out for the bears and gave bulls an opening to push prices back up. That moment was a morning star candlestick pattern on July 30, which coincided perfectly with the second higher low in the MACDH and a clear positive divergence. Confirmation of the morning star pattern came immediately with an hourly close above the high of the pattern.


Since reversing, the DJUA has retraced nearly 50% of its decline from the highs of mid-July. In doing so, the index has begun creating new divergences at the hourly level. These divergences, in contrast to the earlier ones, are negative or bearish divergences. Note how as the DJUA advances, the peaks in the MACDH grow smaller. While this is often the case in newly advancing markets, the shrinking MACDH is a warning to traders that momentum to the upside is waning and that the chances of a correction to this bounce are increasing.