PRINT THIS ARTICLE
HEAD & SHOULDERS
---
The QQQQ's Intraday Head & Shoulders Top
07/27/07 09:51:26 AM
---
by David Penn
---
The rally in the NASDAQ 100 lasted almost a month before a head & shoulders pattern signaled a correction.
Security:
QQQQ
Position:
N/A
I've had much better luck finding many of the traditional chart patterns such as triangles, diamonds, and head & shoulders in intraday charts compared to daily or weekly charts. It would be one thing if I were simply canvassing all of the intraday price action in all the stocks of the Wilshire 5000 for chart patterns. But many of the patterns I find are in exchange traded funds — even exchange traded index funds — which are a far more restrictive survey sample.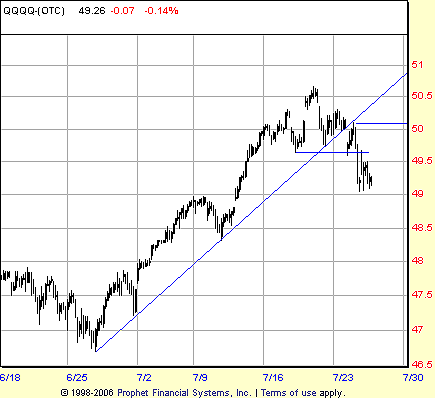 FIGURE 1: NASDAQ 100 UNIT TRUST (QQQQ), HOURLY. This head & shoulders top emerged at the end of a nearly month-long advance in the NASDAQ 100. Note also how the head & shoulders pattern — and its breakdown — also complete a 1-2-3 trend reversal.
Graphic provided by: Prophet Financial, Inc.
The head & shoulders pattern in the QQQQ was as close to ideal as you are likely to find. Developing over the days between July 13 and 24, the pattern has the requisite shape of two peaks ("shoulders") separated by a higher peak ("head"). The actual breakdown from this pattern occurred early in the afternoon of July 24, with the QQQQ falling nearly 60 cents in an hour. The market bounced — or, rather, moved sideways — for a few days before resuming the decline. Given the size of the head & shoulders pattern, about $1.00, and a breakdown level at about 49.64, we can project a minimum move to the 48.60–48.50 area. Note that this coincides with potential support at the morning low from July 11 just south of 48.50.


In addition, note how the head & shoulders pattern coincides with the 1-2-3 trend reversal (Figure 1). The QQQQ broke down below the trendline that supported the rally from late June on the morning of July 24 to form the "1" of the 1-2-3 trend reversal, and the bounce hours later represented stage 2. Stage 3 of the reversal followed shortly thereafter as the low from stage 1 of the 1-2-3 trend reversal was taken out to the downside.


---
David Penn
Technical Writer for Technical Analysis of STOCKS & COMMODITIES magazine, Working-Money.com, and Traders.com Advantage.
---
Click here for more information about our publications!
PRINT THIS ARTICLE