PRINT THIS ARTICLE
OSCILLATORS
---
Daimler Chrysler And Cerberus
07/27/07 09:15:41 AM
---
by Koos van der Merwe
---
We all know that German products are built to last, and that the US's financial success lies in that it is a consumerist society.
Security:
DCX
Position:
Buy
When Daimler bought Chrysler in 1998, the market felt that another Lee Iacocca, the US industrialist known for his revival of the Chrysler brand in the 1980s when he was the CEO, was on the cards. However, integrating German perfection with the US "throwaway" mantra proved to be too much, and when private-equity firm Cerberus Capital Management made an offer to buy 80.1% of Chrysler for $7.4 billion, with an additional investment to be made over the next few years, I am sure Dieter Zetsche, chief executive of DaimlerChrysler, gave a prayer of thanks.

DaimlerChrysler only started considering bids for Chrysler this spring, yet Figure 1 suggests that private talks on the sale may have started in September 2006, when the stochastic relative strength index (RSI) (lower indicator chart) suggested a buy signal. This was confirmed by the rapid RSI and the relative strength spread index (thick white line) in the upper indicator chart. The price at that time was $48-odd. Volume at that time was almost nonexistent and only started to pick up on Valentine's Day, February 14, 2007.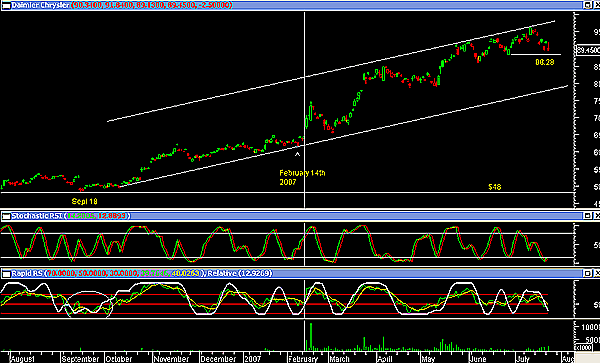 FIGURE 1: DAIMLER CHRYSLER, DAILY. The stock has given a new buy signal, which means that any difficulties buyer Cerberus may have had in raising capital has been set aside.
Graphic provided by: MetaStock.
What will the future hold for Chrysler? Figure 1 shows that the stock has given a fresh buy signal, which means that any difficulties that Cerberus may have in raising the capital needed for the sale has probably been taken care of in spite of the recent decline in the Dow Jones Industrial Average. The stock may test the pivot point support level of $88.28 before rising, but we could place a bid and try to buy it on a pullback. Will the stock price double as it has done since September 2006? This is a question for the fundamentalists. With the US dollar weakening even more as we write, however, and with European-manufactured automobiles becoming more expensive in the American market, we can only assume that the price increase expected in the stock is because the Chrysler drain will have been removed.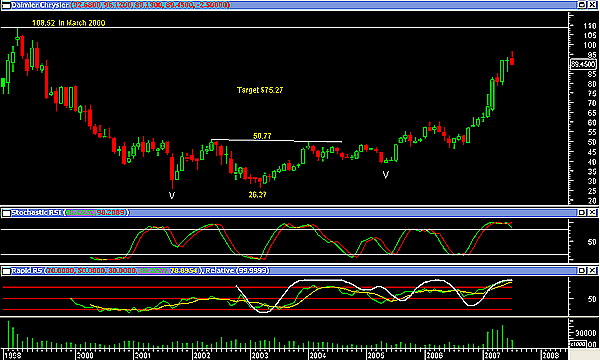 FIGURE 2: DAIMLER CHRYSLER, MONTHLY. The stock price dropped from a high of $108.52 in March 2000 to a low of $26.27 by March 2003.
Graphic provided by: MetaStock.
A look at the monthly chart in Figure 2 shows how the price dropped from a high of $108.52 in March 2000 to the low of $26.27 by March 2003. The price does appear to have formed an inverse head & shoulders pattern as shown. This gives a target of $75.27 (50.77-26.27=24.50 + 50.77 = 75.27). The present price of the share is far higher than this level. What is a concern is that both the rapid RSI and the stochastic RSI as well as the relative strength spread are all at overbought levels, but have not yet given a sell signal. This suggests that the play is short term only, and should not be for long-term investment.


To conclude, Daimler Chrysler (DCX) has given a short-term buy signal and should be monitored with a tight stop-loss.


---
Koos van der Merwe
Has been a technical analyst since 1969, and has worked as a futures and options trader with First Financial Futures in Johannesburg, South Africa.
| | |
| --- | --- |
| Address: | 3256 West 24th Ave |
| | Vancouver, BC |
| Phone # for sales: | 6042634214 |
| E-mail address: | petroosp@gmail.com |
---
Click here for more information about our publications!
PRINT THIS ARTICLE