PRINT THIS ARTICLE
REVERSAL
---
Positive MACDH Divergence At Support
07/20/07 03:47:22 PM
---
by David Penn
---
The US dollar/Swiss franc pair hints at reversal as year-to-date lows are tested in mid-July.
Security:
USD/CHF
Position:
N/A
In my recent Working-Money.com article, "Trading The Stars," I talk about morning and evening star patterns in the US dollar/Swiss franc currency pair.

The morning star pattern came at the end of May–beginning of June, and ended a correction in the USD/CHF's rally, one that began in mid-April. The evening star pattern came in the first half of June and signaled the end of the momentum that had driven the market higher over the past several weeks.



In the Working-Money.com article, I suggested that the evening star pattern was an inferior trade. This was based on a risk/reward assessment that calculated a 1 to 1.24 risk/reward ratio based on the possibility of a falling USD/CHF finding support at the level of the May highs.


As the market turned out, that support provided only brief interference to the decline in the USD/CHF. The USD/CHF spent about four days trying to work through that support area before smashing through it decisively on the fifth day.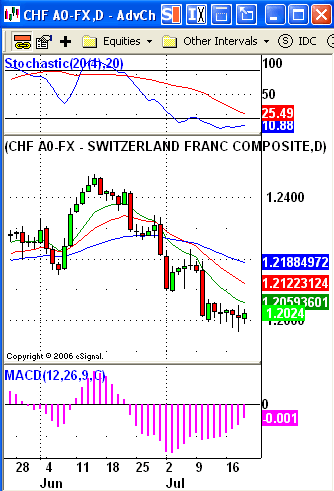 FIGURE 1: US DOLLAR/SWISS FRANC, DAILY. A positive divergence builds in the USD/CHF as the currency pair tests year-to-date lows.
Graphic provided by: eSignal.
With the USD/CHF testing year-to-date lows just south of 1.20, the pair is obviously at a crucial juncture (Figure 1). Violation of the year-to-date lows — accompanied with follow-through to the downside — would suggest that a much more severe decline in the dollar's value against the franc was in the making. The possibility of a US dollar–Swiss franc parity would become quite likely.


There is some reason to think that the breakdown to new yearly lows might not happen just yet. The decline in USD/CHF since July has begun forming a positive divergence in the moving average convergence/divergence histogram (MACDH).

This positive divergence has yet to be confirmed. In order for that to occur, the USD/CHF would need to close above the high of July 11, approximately 1.2068. A daily close above that level would be sufficient for traders to consider taking a bet that the USD/CHF had bottomed — at least in the short term — and was providing an opportunity to the long side.



---
David Penn
Technical Writer for Technical Analysis of STOCKS & COMMODITIES magazine, Working-Money.com, and Traders.com Advantage.
---
Click here for more information about our publications!
PRINT THIS ARTICLE