PRINT THIS ARTICLE
TRIANGLES
---
Intel Downside: Chipzilla Meets the Descending Triangle
12/27/00 02:01:21 PM
---
by David Penn
---
After gapping down five points in September, shares of Intel moved into a two-month trading range. Now a descending triangle threatens to send the king of the chipmakers on another ride down.
Security:
INTC
Position:
N/A
Chipzilla was Intel's nickname in the 1990s among many tech geeks who saw in the dominance of Intel and its Pentium chip a power as ferocious as everyone's favorite giant, radioactive, fire-breathing lizard from the East. With its stock trading around 33, Intel shares are 55% off their 52-week high--a very unferocious performance in 2000 to say the least. And with Advanced Micro Devices (AMD) breathing down Intel's back every time the company announces another shipping delay or Pentium 4 glitch, life as king of the chipmakers has been better.


Unfortunately for Intel, things may not get too much better soon. The trading range Intel had oscillated through during October and November has gotten both lower and narrower (from 35 to 47 in October and November to 33 to 38 in December). A level of support appears to exist at 33; shares have not been able to hold below this mark for long in December. But the prices investors and traders are willing to pay for Intel got lower as December unfolded. Given the horizontal support at 33 and the series of lower highs experienced in December, Intel has developed a month-long descending triangle formation, which typically portends a short-term bearish consolidation.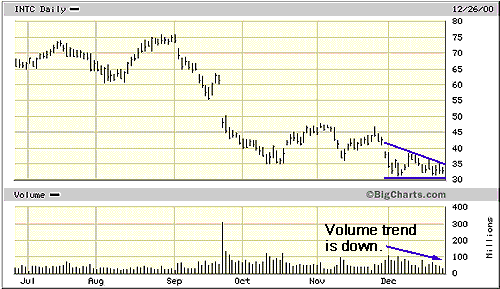 Intel's attempt at consolidation in October and November grinds down into a descending triangle come December. Note the downward volume trend during the formation, as well.
Graphic provided by: Bigcharts.com.
This largely suffices for the definition of a descending triangle: the horizontal support line and the downwardly sloping top. Insofar as descending triangles tend to precede bearish consolidations, they often appear during downtrends at the end of a trading range, or even at temporary bottoms--as is the case here. The volume trend on descending triangles is generally downward, as sellers find fewer and fewer buyers willing to bid up prices. Volume is larger on the breakout, but what is most dramatic during the breakout from the pattern is the price action itself. Bulkowski ('Encyclopedia of Chart Patterns,' 2000) suggests that downside breakouts from descending triangles often reach their "ultimate low" fairly quickly. This underscores the importance of quick action to take advantage of a descending triangle breakout.


The measure rule for descending triangles is similar to the rule for other formations. Measure the distance from the horizontal support line to the area on the downwardly sloping top where the formation begins. Subtract this amount from the value of the horizontal support line and what is left is the likely "ultimate low" for the pattern. Here, the horizontal support line is at about 33. While the lines in the chart below are extended for emphasis, the descending triangle formation in Intel develops after the first week of trading in December, when the top line is at 38. Subtracting the former from the latter gives us a value of five which, subtracted from the horizontal support line, gives us an "ultimate low" of 28.


A five-point move in this instance is not tremendous. Here it would represent about a 15% gain (shorting Intel at 33 and covering at 28), which is about what Bulkowski suggests is an "average" decline for the formation. For an investor, such a decline may provide an opportunity to buy additional shares at a discount. For a trader, a 15% gain on a trade is always a good thing, short or long. What might be interesting for both investors and traders is the fact that Intel's last five-point move was its September gap-down from 55 to 50. Shares fell another 17 points over the next two months. With that kind of recent history and this kind of stock market, could a five-point drop from the descending triangle be the beginning of yet another round of tumbles for the reigning king of the chips?


---
David Penn
Technical Writer for Technical Analysis of STOCKS & COMMODITIES magazine, Working-Money.com, and Traders.com Advantage.
---
Click here for more information about our publications!
PRINT THIS ARTICLE