The NASDAQ Composite ($COMPQ) consolidated after the gap breakout of a flag & pennant formation on June 15. The index should have moved toward the target instead of consolidation, sparking the idea of topping out. Figure 1 shows that the index was sideways for about four days and then plunged on the June 20th session, losing 40 points. The series of lower highs and lower lows formed a downward channel on the price charts, and the NASDAQ Composite drifted below the support of a 200-day moving average (MA). Thereafter, the 50-day MA also tipped downside and the 200-day MA turned toward the bullish rally. Yesterday's closing candle touched the previous session low, avoiding a further fall for the day. But traders were left with uncertainty about the direction. The downward channel is likely to continue going down, but the support offered by a low pivot can give a pullback rally within the channel, which is worth little. As such, the rally is just for observation. Again, the 200-day MA is a strong resistance in the channel.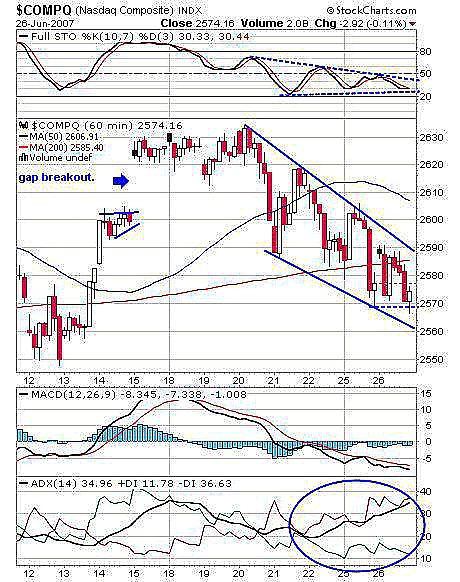 FIGURE 1: $COMPQ, HOURLY. The NASDAQ Composite moves in a downward channel with the 200-day MA resistance within.
Graphic provided by: StockCharts.com.
In Figure 1, the stochastic (10, 7, 3) has a triangle formation with an unknown breakout direction. The moving average convergence/divergence (MACD)(12, 26, 9) continued to remain negative and moved below the zero line. This is again a negative indication for any bullish rally and reassures the correct direction of a downward channel. The trend is already grabbed by bears. The average directional index (ADX)(14) is 34 with the negative directional index (-DI) at 36, whereas (+DI) the positive directional index at 11. This indicates a strong developed downtrend.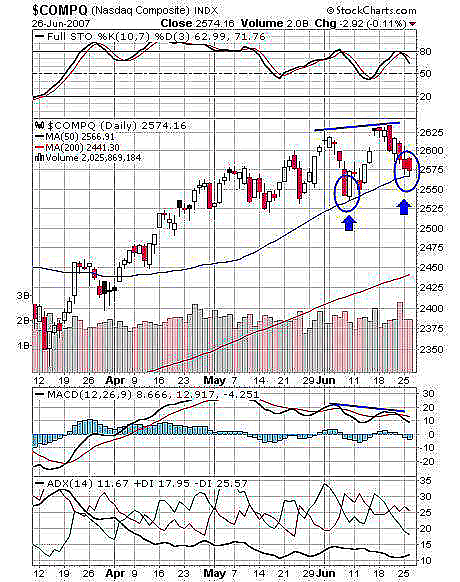 FIGURE 2: $COMPQ, DAILY. The 50-day MA offered support twice at two different levels.
Graphic provided by: StockCharts.com.
On Figure 2, the $COMPQ established support on the 50-day MA twice, though higher lows were formed. The initial low was around the 2535 level with a bullish candle, whereas yesterday and the day before formed a completely filled bearish candle on support of the 50-day MA at the 2570 level. So it's hard to judge the bullish rally from the current support of the 50-day MA.


The moving average convergence/divergence has negative divergence, the results of which are already reflected on the price chart. The ADX (14) is at 11, indicating the nonexistence of either trend, and -DI and +DI are clashing with equal strength.


So in present condition, the bears are ruling the index with a minor pullback rally. Sitting patiently will be most fruitful.