PRINT THIS ARTICLE
SUPPORT & RESISTANCE
---
A Whiff Of Deflation
06/26/07 02:20:47 PM
---
by David Penn
---
Are falling silver prices anticipating a deflationary shock?
Security:
SIU7
Position:
N/A
A few months ago in Working-Money.com, I suggested that the crescendo of inflation-mongering in the popular financial press was good reason to take a close look at the other side of that bet.

What does the other side of that bet consist of? Among other things, a rising US dollar and falling prices for precious metals.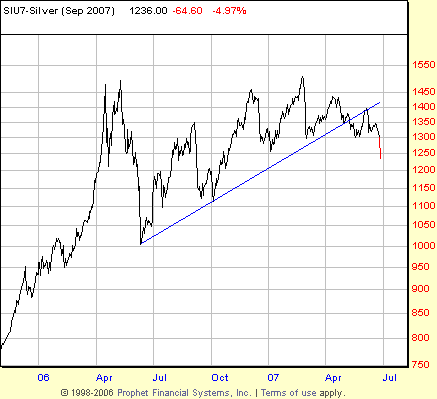 FIGURE 1: SILVER, SEPTEMBER FUTURES, DAILY. A break below a major trendline shows follow-through to the downside after a brief bounce that tested the former support line for resistance.
Graphic provided by: Prophet Financial, Inc.
My suspicion of the gold rally (documented in Traders.com Advantage articles such as "Gold Meets Resistance" from April 25, 2007) has led me to anticipate a break in precious metals sooner than later. And while it took longer than I thought, my lower-before-higher thesis appears to be materializing, especially in assets like silver.


There are a number of ways to look at the breakdown in silver — and all of them are particularly bearish. The chart of September silver in Figure 1 is a line chart because the candlestick chart over the time frame was a little discontinuous. The line chart makes it easy to see how prices for September silver plunged late in the second quarter of 2007.


This move lower comes after an initial break below a major trendline that extends back almost a year. Silver prices bounced shortly after breaking the support line, testing that same trendline for resistance before failing to move higher and, instead, reversing and moving lower.


The move lower in September silver not only sets a new low for the second quarter of 2007, but also looks to set a new low for the year. In fact, by breaking below the $12.50 level, September silver's next clear support does not appear until the $11.00 level. This would match the low of the early part of the fourth quarter of 2006 — as well as representing a major retracement of the rally from the correction low in the second quarter of 2006.


---
David Penn
Technical Writer for Technical Analysis of STOCKS & COMMODITIES magazine, Working-Money.com, and Traders.com Advantage.
---
Click here for more information about our publications!
PRINT THIS ARTICLE