PRINT THIS ARTICLE
SUPPORT & RESISTANCE
---
July Copper: Support To Resistance
06/22/07 09:21:10 AM
---
by David Penn
---
The support that kept copper high in the spring threatens to become resistance in summer.
Security:
HGN7
Position:
N/A
Of the many basic tenets of technical analysis, the concept of support & resistance is near the top of the list. The idea of support & resistance goes right to the heart of the battle between those betting on higher prices and those betting on lower ones. It also speaks to the idea that the market, far from being random, has a memory, and that memory will allow a market to revisit old challenges.


One example of this is the way that support, once broken, can become resistance. I like to think of support as the region where bearish momentum is weak and resistance as the region where bullish momentum is weak. This weakness is also often revealed in candlestick charts by the number of shadows that touch the support or resistance area; the failure to close at or beyond those areas is further evidence of weakness.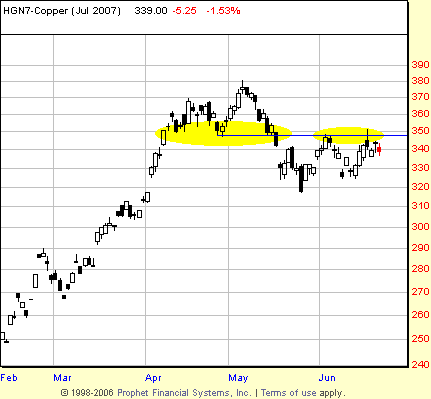 FIGURE 1: COPPER, JULY FUTURES, DAILY. July copper futures tested support near the $3.50 level repeatedly in April and again in mid-May. A break below that level shortly thereafter and a subsequent bounce finds those futures struggling to rally above the same $3.50 level.
Graphic provided by: Prophet Financial, Inc.
July copper has begun a series of higher highs and higher lows (Figure 1). As of this moment, the June low is higher than the May low, and with the mid-June high exceeding the early June high (albeit only on an intrasession basis), the case for a breakout above the new resistance level and higher prices for copper has some legs. However, any failure to close above the $3.50, as well as the lack of follow-through to the upside, would likely convince copper traders that the path to least resistance is the road chosen by copper futures in May — not the one they will have abandoned in June.


---
David Penn
Technical Writer for Technical Analysis of STOCKS & COMMODITIES magazine, Working-Money.com, and Traders.com Advantage.
---
Click here for more information about our publications!
PRINT THIS ARTICLE