American Superconductor Corp. (AMSC) began its bullish rally from $10 in February 2007. Though a slow mover, AMSC has offered steady returns since then. With a five-point advance rally, the stock has been in a long consolidation since the end of March until now. In Figure 1, you can see that volume also was reduced as the stock price moved in a much narrower range of $14-$15.


But the price has finally emerged from the range after almost two and a half months. The price sharply rose to $18 on improved volume. Such fast-running moves are high-risk trades, so trades are possible only during the cooling-off period. Prices may consolidate or even dip toward its previous support. AMSC is also likely to consolidate after its sudden three-point move. Traders can look for new buying above the $18 level.


In Figure 1, the relative strength index (RSI)(14) has remained bullish throughout the rally. Bullish strength in stock persists as the RSI has sustained above 50. Though the indicator moved in a 50-70 range, the price rallied five points. With a sudden move in the price, the RSI rallied above 70 but failed to sustain. Now, however, as the indicator tips down it holds its bullish strength. The dip in the RSI may result in the consolidation in price. And because trading during the consolidation phase is risky, the best entry level is above 18. The average directional movement index (ADX) (14) has moved to 20, indicating a developing strong uptrend. Though the price is likely to consolidate, the developing bullish trend will be intact.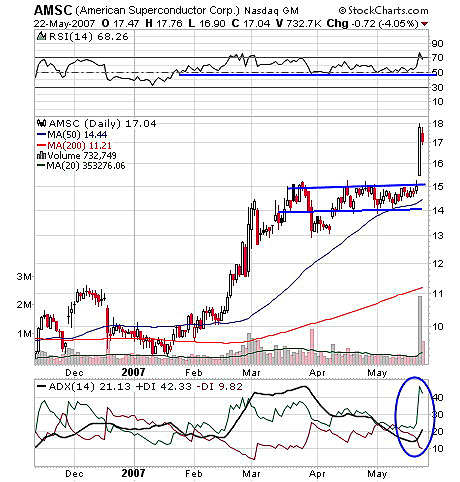 FIGURE 1: AMSC, DAILY. This stock surged from long consolidation, resuming the bullish rally. A sudden three-point move may result in minor consolidation again before getting back to a target of $20.
Graphic provided by: StockCharts.com.
Figure 2, the weekly chart, shows a flag & pennant formation. The formation is a continuation pattern of a previous advance rally. AMSC broke out with huge volume, moving up three points. The RSI (14) is at 74, indicating bullish strength in the rally. The ADX(14) is indicating a well-developed uptrend. To calculate the length of the target of breakout, the length of the flagpole is considered; (10 - 15 = 5) gives us the length of the flagpole. So by adding 5 to the breakout level of 15, we get the target of 20. AMSC has made a high of $20 in 2004, but the price has already moved to $18 in just a day.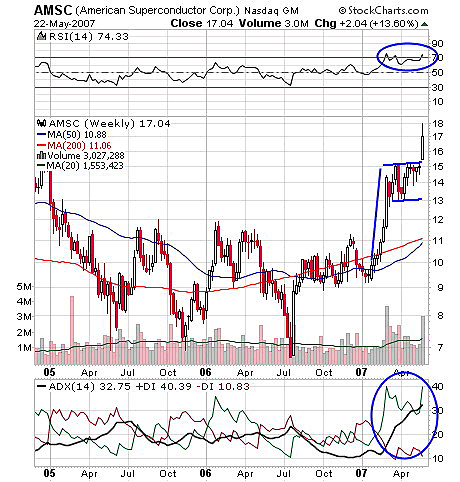 FIGURE 2: AMSC, WEEKLY. A flag & pennant breakout may see the target of $20.
Graphic provided by: StockCharts.com.
Traders should consider the possibility of consolidation after the fast move before taking any long position. Both indicators are providing a positive signal for buying opportunities. Thus, traders can look for a target of $20.