Infosys, one of the leading technology stocks, is showing volatile moves for the last few months. The stock has moved about $30 from mid-2006 to February 2007, so this move might be just reaction or consolidation toward the initial 30-point bullish rally. But traders need to know at what level this stock can be traded again. During its correction phase, the 50-day moving average (MA) support was violated with a gap down, and thereafter, correcting further, the price tested a 200-day MA support in the longer term and with a stronger moving average support/resistance.


The trip from $48 to $54 began with this strong 200-day MA support. The 50-day MA was the resistance for the oncoming bullish rally. But this resistance turned in support only due to the encouraging volume during the rally from $48.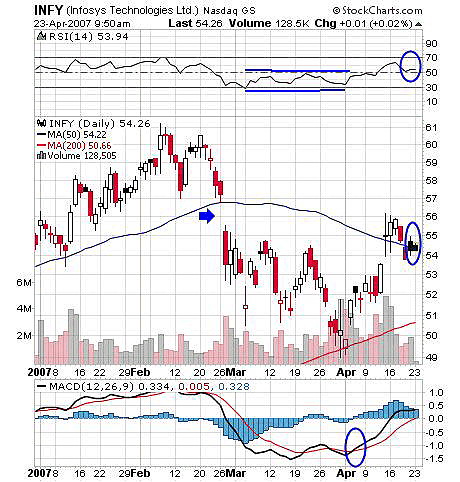 FIGURE 1: INFOSYS, DAILY. Here, the stock price stands on the support of the 50-day moving average.
Graphic provided by: SuperCharts.
The relative strength index (RSI)(14) is comfortably above 50, indicating buying opportunities on this bullish rally. The moving average convergence/divergence (MACD) (12,26,9) is positive since the bullish crossover. The positive MACD is trying to cross its zero line, opening low-risk buying, and thus, both indicators combined makes a good long position possible. In addition, the price has the support of the 50-day MA. But the best trade is possible above $56, with a target of a previous high.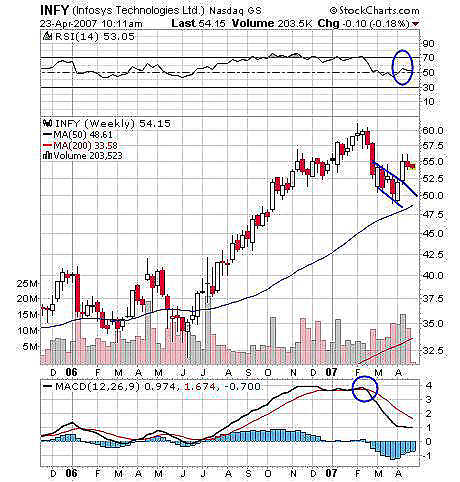 FIGURE 2: INFOSYS, WEEKLY. The falling wedge breakout failed to move further. The possibility of testing the trendline support cannot be ignored.
Graphic provided by: StockCharts.com.
A falling wedge was formed while the stock was correcting during the last few weeks. A bullish breakout on the wedge occurred with good volume but could not move further, so the price could plunge to the upper trendline of the wedge. The RSI(14) at 53 gives a buy signal, but the MACD (12,26,9) has a bearish crossover. In Figure 1, the daily chart, the MACD (12,26,9) gave a bullish crossover. The MACD (12,26,9) traders can first follow the price to move above $56 and then look for MACD signals. Figure 2, the weekly chart, has a 50-day MA as its first support.


Though Infosys is good among technology stocks, it should currently just be watched. A low-risk trade is possible only above $56, so this stock should top the watchlist of traders and investors.