The Philadelphia Banking Index ($BKX) began its bullish rally from mid-December 2004. After gaining about 20 points on this rally, the bank index made a high of $121 on March 20, 2007. Since then, the index has corrected sharply, losing some gains during the previous bullish rally. It violated the support of the 50-day moving average and an additional 200-day MA. The newly formed resistance added with negative world clues when during last month, $BKX failed to perform. On reaching the 50-day MA resistance, the index retraced to its previous low pivot and consolidated, forming a double bottom (Figure 1). A double bottom is a bullish indication, conveying a possible upside move in the index. Accordingly, the bank index traveled five points, from 112 to its previous high of 117. The previous high is a major resistance by itself in the bullish rally, so this high may result in either a consolidation or a dip in the bank index.


The stochastic oscillator has failed to move above 80 as the price was under the resistance of the 50-day moving average. Currently, the stochastic is 65, indicating plenty of bullish room for the index. The average directional movement index (ADX)(14) slips to 25 from 30, with +DI crossover from below. This is a bullish indication, indicating a developing uptrend.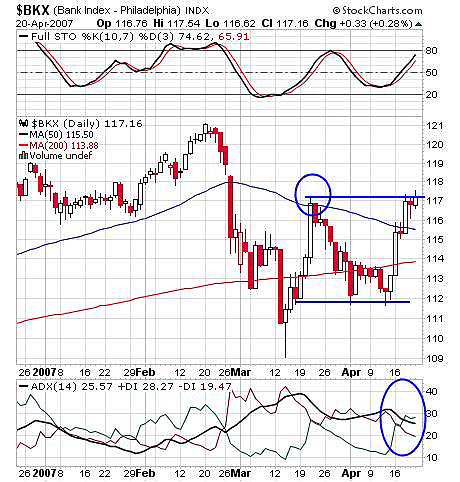 FIGURE 1: $BKX, DAILY. The bank index faces previous high resistance that can lead to consolidation.
Graphic provided by: StockCharts.com.
So both indicators highlight positive signals for $BKX to move ahead of its resistance line. With this indication, if the bank index moves ahead, its individual stock might see a good bullish rally. Now let's find what signals we get from the weekly chart (Figure 2).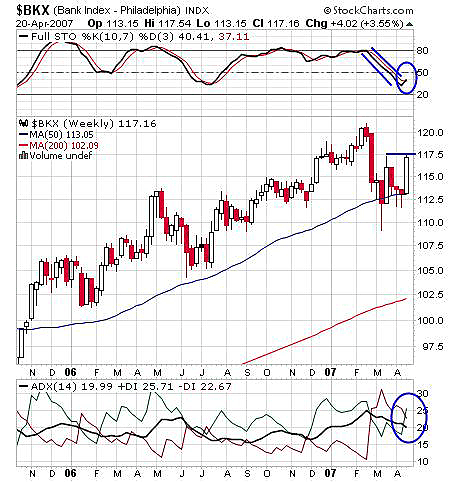 FIGURE 2: $BKX, WEEKLY. $BKX has a strong bullish support of 50-day moving average, but the previous high pivot may react like a dictator.
Graphic provided by: StockCharts.com.
The stochastic (10,7,3) dipped from the 80 level to 20, with the index correcting from 121 to 112. Figure 2 shows that the index stands on perfect support of the 50-day moving average. The bullish run during last week made the index touch its previous high at 117.5. The stochastic at 37.11 is giving a bullish signal by turning above 20. The ADX (14) has marginally moved below 20, indicating the possibility of consolidation in an uptrend. A strong uptrend will regain its strength if the ADX moves 25.


Considering both the daily and weekly charts, the $BKX is likely to continue its bullish rally. The previous high might make the index dip to its 50-day MA support in the daily frame. Traders might see an attractive bullish rally in banking stocks on violating this resistance by $BKX.