DG FastChannel (DGIT) appears to be in a strong uptrend. As the stock rallied, it consolidated, forming a falling/bullish wedge, giving birth to a fresh upside move. In Figure 1, the support line of the bullish wedge indicates the strength of the rally, while the resistance line was crossed with huge volume that helped sustain the breakout.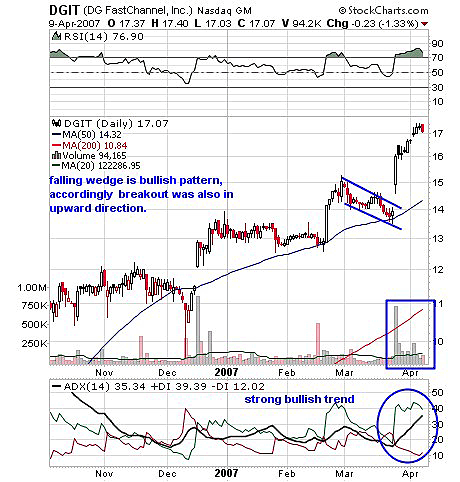 FIGURE 1: DGIT, DAILY. The bullish wedge breakout has almost reached its target and is now ready to dip marginally. The overbought RSI is also ready to turn down.
Graphic provided by: StockCharts.com.
The relative strength index (RSI)(14) moved sharply above 70 with a breakout on the bullish wedge, and then the advance rally headed up with the overbought RSI. Meanwhile, as the breakout reached the target level at $17, the RSI turned highly overbought near 80, indicating that the RSI may take a small dip, creating room for another bullish rally. With the dip in the RSI, the price of DGIT can also move down to test its previous low pivot.



The average directional movement index (ADX)(14) indicates a developing uptrend. Here too the breakout leads to buying pressure. This made bulls stronger and moved the ADX above 20. This trend is likely to continue, even though the RSI may dip. This dip will lead to another rally, but traders may want to take profits at the current level.


In Figure 2, the weekly chart, DGIT has achieved its target of $17 on a flag & pennant breakout. Traders should also note that this flag & pennant was formed with the support of the 200-day moving average. This indicates that the stock has started up with bullish strength with the breakout on that formation. The RSI(14) has been highly overbought since October 2006, with minor dips leading in price consolidation. At the current level, the RSI is ready to dip, while the ADX(14) is indicating that a strong uptrend will continue.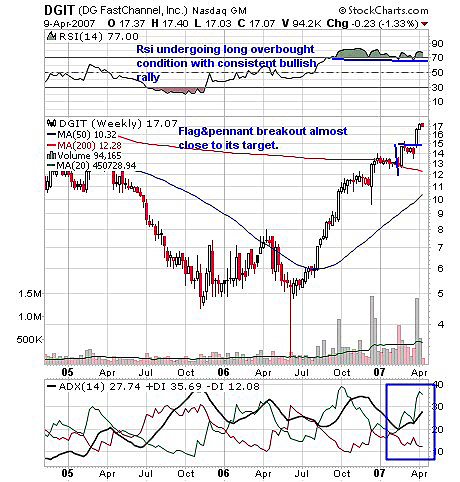 FIGURE 2: DGIT, WEEKLY. The RSI indicates that it is staying in an overbought/oversold position for a longer period. Minor dips during the overbought RSI can lead to smaller dips or a consolidation in price.
Graphic provided by: StockCharts.com.
On both Figures 1 and 2, the stock has achieved its targets, and the RSI (14) has also turned highly overbought. This can lead to a smaller dip or even a consolidation. As a result, traders may find it advisable to book their profits.