CBRL Group (CBRL) slipped down to $32 from $48, losing almost $12. There can be many reasons for such a correction, but getting on with this drop is important as well. CBRL has shown great strength in a pullback rally and recovered 100% from its fall. Figure 1 shows the stock established support on the retracement level. On reaching its previous high, the stock consolidated, gathering the force for a bullish rally. Since the consolidation range looks to be in the $48-$46 level, traders should observe the lower range as support.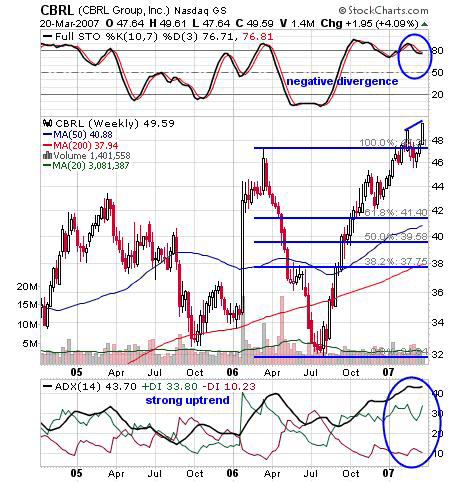 FIGURE 1: CBRL, WEEKLY. The stock established support on a retrenchment level before moving on.
Graphic provided by: StockCharts.com.
The stochastic (10,7,3) also become highly oversold, below 20, due to the fall in price. This indicator creates a buying opportunity at the oversold level of 20 and gives a cautious signal at the overbought level of 80. This indicator could remain overbought for a considerable time and need not drop down immediately. The traders who follow stochastics can note the move. It turned flat before starting its upside move. As the stochastics moved above 20, the price moved faster, thus allowing fresh buying in stock. The indicator at 76.71 level looks as if it is forming a negative divergence with price. As a result, traders long on the stock during the pullback can book some profit, as the stock might consolidate, though not dip.


The average directional movement index (ADX)(14) has moved above 40, indicating a strong uptrend. This stock is showing a positive signal for new long positions above $49 with target of $52, according to the daily chart (Figure 2).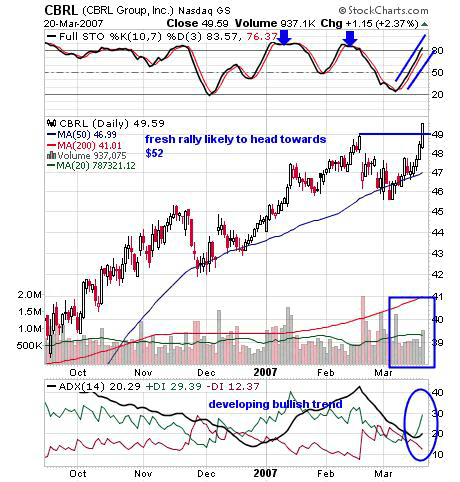 FIGURE 2: CBRL, DAILY. This stock is showing a positive signal for new long positions.
Graphic provided by: StockCharts.com.
Figure 2 shows that CBRL has been moving in the direction and support of the 50-day moving average (MA). In mid-February 2007, when the stock made a high of $49, it plunged immediately, confirming a lack of strength in holding the new high due to poor volume. But the price rested on the 50-day MA support before rallying upward. The buyers immediately poured in as support was established. This made the stock move faster toward its previous high. Stochastic (10,7,3) at 76 indicates a bullish rally ahead above $49. The ADX (14) shows a developing bullish trend, so traders can go long above $49 with target of $52. To calculate the target, add $3 from the previous rally ($49-$46) and add to $49.


CBRL appears to be a good buy and a strong stock as it has completely recovered from its correction. And now it has the strength to achieve its target of $52.