PRINT THIS ARTICLE
LIN. REGTREND
---
Linear Regression Lines and US Treasury Bonds
11/17/00 02:15:08 PM
---
by Jayanthi Gopalakrishnan
---
A linear regression line is a useful tool for determining the general direction of a trend.
Security:
N/A
Position:
Buy
The linear regression line is constructed using the least squares method. This results in a straight line that goes through prices unlike trendlines that are drawn by connecting high and low points.


The point where the straight line intersects with a price bar can be thought of as an equilibrium price. When prices drift above the linear regression line, it is indicative of buyers entering the market whereas when below it, it implies the dominance of sellers.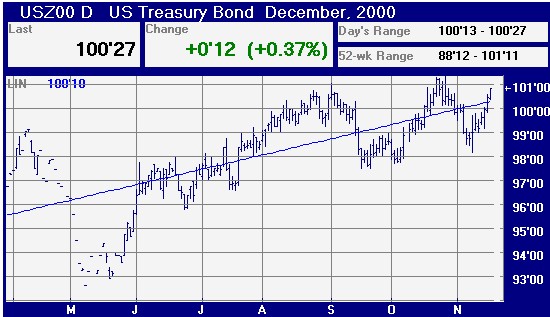 Treasury bond prices have drifted above the linear regression line. Could this be a buy signal?
Graphic provided by: FutureSource.com.
The chart of the December 2000 US 30 year T-bond contract displays prices drifting above the upward sloping linear regression line. In the midst of a nervous stock market this positive sign is indeed refreshing but the caution flag is still up. It looks like bonds may face a tough resistance just above $101.


---
Jayanthi Gopalakrishnan
---
Click here for more information about our publications!
Comments
PRINT THIS ARTICLE