PRINT THIS ARTICLE
CANDLESTICK CHARTING
---
Tokyo Nikkei Warning
03/01/07 09:25:30 AM
---
by Gary Grosschadl
---
Yesterday's Shanghai Composite Index meltdown caused major short-term dives on many major indexes around the world.
Security:
$NIKK
Position:
Sell
Market pundits say the Shanghai Composite Index fall, and the resultant drop on the part of many major indexes, was an overreaction and praised the Tokyo Nikkei index ($NIKK) for not taking a similar hit, while the Dow Jones industrials, for example, suffered its biggest one-day drop since 9/11. Taking a closer look at the "saved" Tokyo index, however, I draw little comfort. See Figure 1.


A doji top (with its telltale small cross) often marks major reversal points after large uplegs or downlegs. I never take these lightly, as they tend to be one of the more reliable candlestick patterns. After a doji top or bottom, the next day's candlestick is taken to be confirmation. A close below yesterday's low confirms the bearish warning, while a move above the doji negates it. For the sake of some prudence, let's wait for additional nearby confirmation. A close below 18,000 would be stronger confirmation.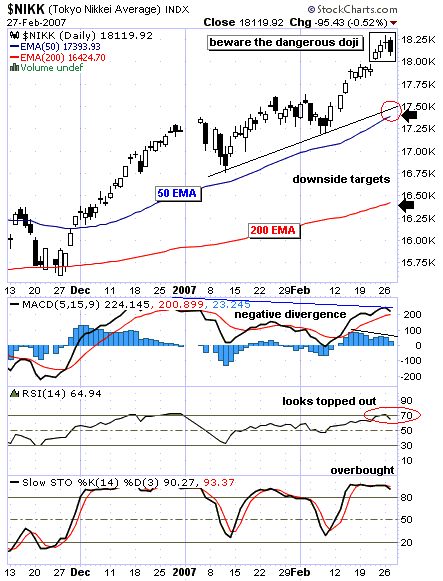 FIGURE 1: NIKKEI, DAILY. Could this be a classic candlestick top?
Graphic provided by: StockCharts.com.
Two major support levels are possible should a sizable downturn develop. The 50-day exponential moving average (EMA) closely mirrors trendline support and currently resides at 17,394. Much stronger support would be at the 200-day EMA at 16,424. Note how the 200-day EMA held support in December 2006.


Several indicators can be considered. The moving average convergence/divergence (MACD) and the relative strength index (RSI) both show their own warnings via a negative divergence to price action. As the index rose to the recent peak, these indicators refused to do likewise, offering a caution or warning of a possible coming downturn. The stochastic oscillator is in overbought territory, above the 80 level. A dip below 80 usually confirms a downleg developing, so this could act as another bearish confirmation.



Dangerous doji or a head fake? Stay tuned to this index as a harbinger of the market puzzle that traders so often try to piece together.



---
Gary Grosschadl
Independent Canadian equities trader and technical analyst based in Peterborough
Ontario, Canada.
---
Click here for more information about our publications!
Comments
Date:
 03/01/07
Rank:
 5
Comment:
PRINT THIS ARTICLE