Cabela's Inc. (CAB) had been in a convergence zone since January 2007, forming the symmetrical triangle. This triangle formation is difficult to trade as the breakout direction cannot be determined easily. Figure 1 shows CAB has broken out in an upward direction, so traders and investors can trade such formations only on a confirmed breakout. Volume has also moved up, indicating the strength of price movement. For a symmetrical triangle, the target is calculated by measuring the width of the triangle and adding it to breakout level. Accordingly, in this triangle in CAB, the width is 2 points ($22.50 – $24.50), so by adding $2 to $24.50, we get the target of $26.50. Traders should note that the target is already achieved with improved volume. The target of the triangle breakout and the previous high of the rally are at the same level — that is, the $26 level.


The relative strength index (RSI) (14) during the formation was volatile near the 50 level. As the price broke out at $24, the RSI also moved above 60, indicating that the bullish rally would continue. The average directional movement index (ADX) (14) can be seen moving above 15, showing that the bullish trend is developing. The breakout has led to a sudden increase in buying pressure, moving +DI (directional index) to 26. Hence, with these two indicators, I would recommend buying above $26. Those already long can continue holding with a target of $32. Since the breakout target has already been achieved, this fresh target of $32 is calculated on a previous rally from $20 to $26. So by adding $6 ($20 – $26) to $26, the target can be achieved.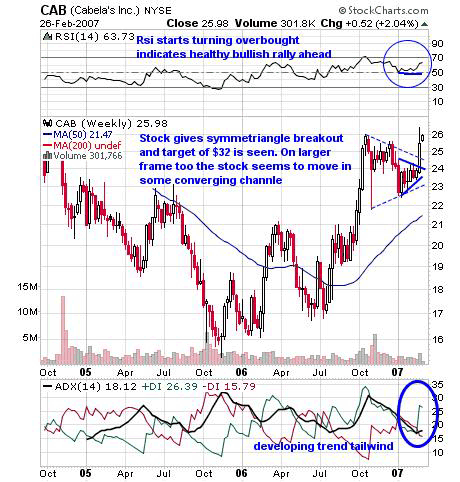 FIGURE 1: CAB, WEEKLY. The dotted line indicates a converging channel is forming. The price has broken out of a symmetrical triangle at $24.
Graphic provided by: StockCharts.com.
Figure 2 also shows a symmetrical triangle breakout. This reinforces the rally after breakout. Since the price within triangle shows volatility, the volume is also lagging. But as the price moves above the upper converging line of triangle, the volume is accelerated. This adds the strength to the breakout. The RSI (14) moves vertically above 70 as a result of the breakout. This indicates the positive strength in the rally. The ADX (14) indicates a developing trend tailwind.


Though the price has moved near its previous high, the RSI levels and the ADX shows that the temporary resistance will get violated soon. The rally has greater strength to move above this resistance line as the breakout has occurred out of a similar formation on both time frames.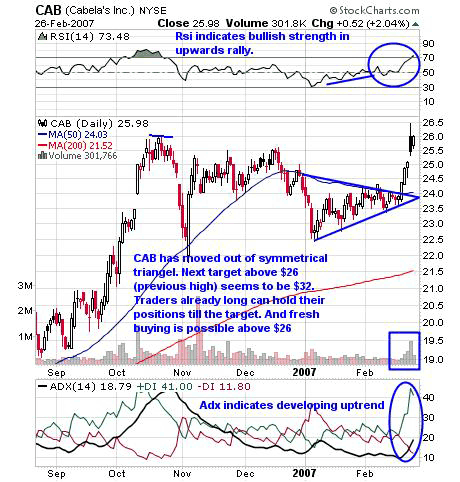 FIGURE 2: CAB, DAILY. A symmetrical triangle breakout also reinforces the rally.
Graphic provided by: StockCharts.com.
Thus, a fresh long position is possible above this previous high at $26, with a target of $32. And those traders and investors already long can sit on their positions with a breakeven stop-loss.