I can't stand it anymore. I'd wanted to write a longer piece about the health-care sector, a sector that is seasonally favorable right now. But my fear is that by the time I got a Working Money piece posted, some of the most exciting things in the sector might already be in the past.


That kind of thinking is almost always wrong. One of the interesting things I've noticed over the past few months of studying weekly charts before looking at the dailies was how major moves to the upside — a breakout week that would look intimidating and a "move missed" by daily chart watchers — are often followed up by more upside. In the same way that panicking during a selloff is rarely profitable in the long run, rushing into a market "before it gets away" can also be a wrong-headed approach.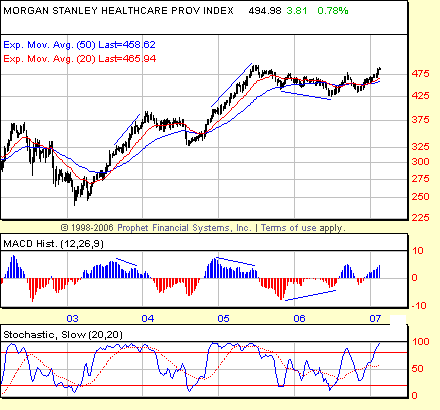 MORGAN STANLEY HEALTHCARE PROVIDER INDEX, WEEKLY. The bull market in healthcare provider stocks ran from the spring of 2003 to the summer of 2005 before a year and a half long consolidation developed over the second half of 2005 and throughout 2006. Note also how major turns in the index were anticipated by both positive and negative divergences in the MACD histogram.
Graphic provided by: Prophet Financial, Inc.
All that said, the five-year weekly chart of the Morgan Stanley Healthcare Provider Index ($RXH) is one of the more interesting charts out there, in my opinion. As shown in Figure 1, the $RXH enjoyed a powerful bull market after bottoming in early 2003. The index more than doubled between that time and the spring of 2005. Since then, the $RXH has moved in a sideways consolidation with a slightly downward bias, slipping to a low of about 420 by the late spring/early summer of 2006.


It appears as if this consolidation may have come to an end. And if health-care providers respond to the end of this correction in the same way they have responded to other corrections, then these stocks are likely to be among the best performers in 2007. The end of the consolidation appears to have been marked by a positive divergence in the moving average convergence/divergence (MACD) histogram during the summer of 2006. The MACD histogram divergences have helped speculators accurately time reversals in this index since late 2003, when they hinted at the coming correction in 2004. It appears that another long-term MACD histogram divergence — this time, a positive divergence — may again help speculators get on the right side of health-care provider stocks just as they are moving, as a group, toward new highs.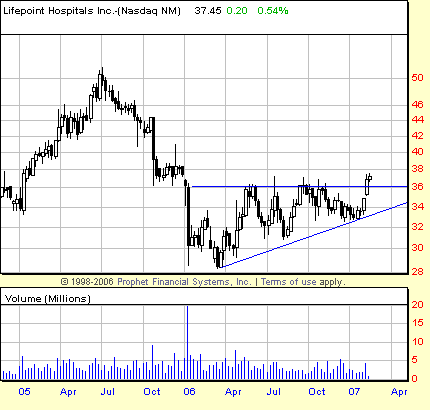 LIFEPOINT HOSPITALS, WEEKLY. Lifepoint Hospitals (LPNT) is just one example of the many healthcare provider stocks that are breaking out. While some stocks are moving toward new highs others, such as LPNT, are rallying from significant bottoms.
Graphic provided by: Prophet Financial, Inc.
There are 16 different stocks in the Morgan Stanley Healthcare Provider Index ($RXH). Some of them, like Sunrise Senior Living (SRZ) and Apria Healthcare (AHG), are making or testing new highs. Others, like Quest Diagnostic (DGX) and Lifepoint Hospitals (LPNT), are coming off of bottom consolidations. If the bullish winds remain at the back of this sector — and, in addition to the bullish technicals, remember that health-care provider stocks are seasonally favored in the March–June time frame — then those stocks at new highs should move on to even higher highs, and those stocks rising from bottoms should enjoy powerful retracements of their previous declines.