PRINT THIS ARTICLE
GAPS
---
A Failed Gap For Activision
01/30/07 08:54:31 AM
---
by Arthur Hill
---
Activision has been trending higher for months, but the stock failed to hold its mid-January gap and the trend is looking tired.
Security:
ATVI
Position:
Hold
There are three kinds of gaps: breakaway, continuation, and exhaustion. Breakaway gaps occur at the beginning of a trend and signal the start of an extended move in the direction of the gap. Common gaps form in the middle of a trend and signal a continuation of that trend. Exhaustion gaps occur in the latter stages of a trend and signal exhaustion. An exhaustion gap starts with a gap in the direction of the trend, but that gap is quickly filled with a sharp move in the other direction. The inability to hold the gap shows exhaustion and can lead to further weakness.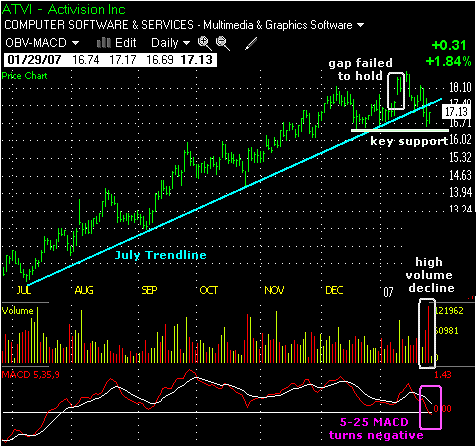 FIGURE 1: ACTIVISION, DAILY. ATVI may be in the latter stages of its current move.
Graphic provided by: Telechart 2007.
Activision (ATVI) has been trending higher since July and the stock failed to hold a big gap on January 11. The uptrend is six months old and the stock is up over 60% in six months. While a trend can last years, ATVI has yet to correct and I would say we are in the latter stages of this current move. The stock gapped up and moved above 18 on January 11, but failed to hold this gap and declined below 17 on high volume. This shows exhaustion and a trend change could be afoot.


What would it take to reverse this uptrend? There are signs of trouble, but ATVI has yet to completely reverse the uptrend. The stock broke below the July trendline the week of January 22 and 5-35 moving average convergence/divergence (MACD) broke into negative territory for the first time since July. This means that the five-day exponential moving average (EMA) moved below the 35-day EMA for the first time since mid-July. Despite these setbacks, the stock remains above its December reaction low and is holding support. A downtrend requires a lower low and it would take a break below 16.5 to fully reverse this trend and call for a correction of the July 2006–January 2007 advance.


---
Arthur Hill
Arthur Hill is currently editor of TDTrader.com, a website specializing in trading strategies, sector/industry specific breadth stats and overall technical analysis. He passed the Society of Technical Analysts (STA London) diploma exam with distinction is a Certified Financial Technician (CFTe). Prior to TD Trader, he was the Chief Technical Analyst for Stockcharts.com and the main contributor to the ChartSchool.
Title:
Editor
Company:
TDTrader.com
Address:
Willem Geetsstraat 17
Mechelen, B2800
Phone # for sales:
3215345465
Website:
www.tdtrader.com
E-mail address:
arthurh@tdtrader.com

Traders' Resource Links

TDTrader.com has not added any product or service information to TRADERS' RESOURCE.
---
Click here for more information about our publications!
Comments
Date:
 01/30/07
Rank:
 4
Comment:
PRINT THIS ARTICLE