Recently, Jim Cramer of CNBC's Mad Money fame shared an anecdote about how he would summarily dismiss his research director every time the poor guy walked into his office with tech picks at this time of the year. Cramer's distaste for tech stocks at the beginning of the year is backed up by the research conducted by Yale and Jeffrey Hirsch. The Hirsches note two seasonal opportunities for what they label "high tech" and "computer tech" stocks: one period begins in early October and ends between mid-January and early February. The other period, interestingly, begins shortly thereafter, lasting from April to July. See Figure 1.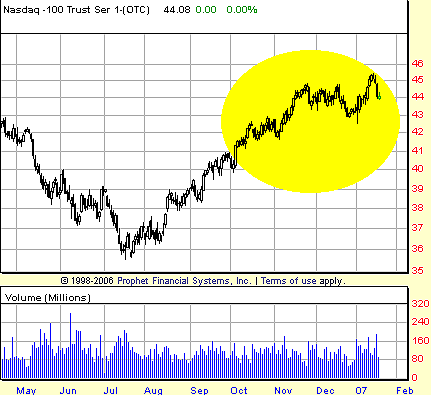 FIGURE 1: NASDAQ 100 TRUST SERIES (QQQQ), DAILY. A seasonal sweet spot for technology stocks is a seasonal sweet spot for the QQQQ as well. From early October to mid-January, the tech-heavy QQQQ appreciated by more than 12%.
Graphic provided by: Prophet Financial, Inc.
These two time frames — mid-autumn through the end of the year and mid-spring into mid-summer — are often (though not always) good times seasonally for most stock market sectors. So it is no surprise that technology stocks, which often lead the market, do best during these stretches. Unfortunately, many traders and investors who profit from these end-of-the-year moves often stick around too long into the new year, hoping for more of the same advances. Too often, the market does not deliver, as investors and traders in semiconductor stocks have learned of late.


This predicament is especially interesting right now, as sector rotation currently favors technology stocks — particularly the high-multiple varieties such as those with significant Internet exposure (YHOO, GOOG, EBAY). Although not specifically "high tech" or "computer tech," these kinds of high-multiple stocks often have a sympathetic relationship with the rest of the tech cohort. And some of the relative sluggishness in these stocks at present is likely related to sluggishness across the field of technology broadly defined (the Hirsches suggest that seasonality for Internet stocks is virtually identical to that of "high tech" stocks).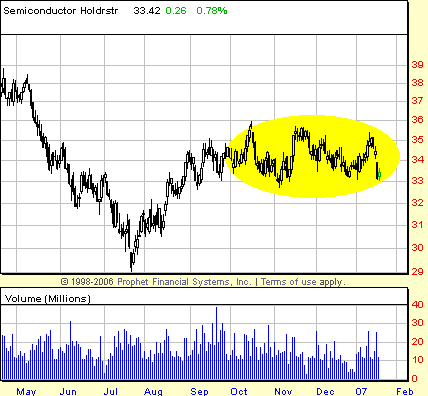 FIGURE 2: SEMICONDUCTOR HOLDRS, DAILY. Favorable seasonality did semiconductors few favors between October and the end of the year. A correction going into the spring looks increasingly likely as the SMH tests support at 33.
Graphic provided by: Prophet Financial, Inc.
If it is true that we are in an interregnum between the last seasonally favorable period and the next one when it comes to tech stocks, then traders and investors are probably best off looking for potential breakdowns, corrections, and pullbacks in many of these stocks. The semiconductor HOLDRS chart in Figure 2 shows a market that rallied from a July bottom topped in mid-October (very counterseasonal) and then stalled and moved sideways from the next few months into the new year.


The range of the consolidation is approximately three points from its highest point at 36 to its lowest at 33. This suggests an upside to 39 should the SMH find support again at 33 and then move up, breaking through resistance at 36 and continuing to move higher. From a bearish perspective, a breakdown below 33 invites a move to 30 and a test of the July 2006 lows. As uncomfortable as that may be for those holding semiconductor stocks into that downturn, a successful test of bottom would likely set up the semiconductor group for a strong rally, perhaps over the (historically) seasonally favorable April to July period.